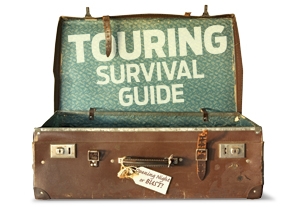 Back Stage puts a spotlight on the traveling actor with advice from performers on the road, how to stay fit on tour and cross-country audition locations.
Touring Actors Offer Advice
Life on the road in shows such as "Peter Pan" and "Rock of Ages" offers unusual challenge.
Top 10 Places to Go in America's Finest Cities
Here are the places to hit in common touring destinations across America brought to you by the actors who've been there.
Carla Stickler on Staying Fit and Healthy on Tour
Eating right and light at Trader Joe's and Whole Foods, engaging in daily exercise, and meditating at Bikram Yoga.
Cross-Country Auditioning
Regional combined auditions such as StrawHat, UPTA, and SETC give performers the opportunity to audition for dozens of companies at once.