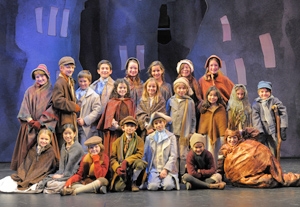 Back Stage surveys the world of young performers by talking to actors, directors, organizers of youth musicals, and more.
"Kick Ass" star Chloë Grace Moretz, "Toy Story" voice actor John Morris and "Bridge to Terabithia" actress Bailee Madison all discuss life as a young performer. TV director Mary Lou Belli talks about working with young actors and passes along tips of the trade. Lastly, Back Stage's own Sarah Kuhn examines the trend of casting young performers in edgy, more mature fare.
Making the Hit
Though it's a cliché to talk about child actors as wise beyond their years, its pretty much a given in the case of Chloë Grace Moretz, who is quickly making a name as the go-to young performer for heady material.
Third-Story Guy
It's no stretch to say that actor John Morris has been involved in the fanciful world of "Toy Story" his entire life. Morris first voiced Pixar kid Andy, owner of Woody and Buzz Lightyear, at age 7, then reprised the role at 14. 
Building 'Bridges'
Perhaps best known for playing the sympathetic kid sister May Belle in "Bridge to Terabithia," 10-year-old Bailee Madison has already rolled up an impressive list of credits.
How Do You Behave On a Project?
"I've been working since I was 4, and my mom always told me, "Listen to everybody and do what you're told and have a great personality. Don't just be one of those vegetables." -- Sarah Hyland
Broadway Dreams
It's not an easy task for young performers to fulfill their dreams of a Broadway career. Even the most gifted are usually lacking in real-world experience.
On Directing Kids
Once, when TV director Mary Lou Belli was an observer on the set of a long-running sitcom, she noticed that the child actors were no better in the seventh year of the show than they had been in the first.
Juvenile Offenders
In the heightened reality of J.B. Ghuman Jr.'s Tribeca Film Festival–bound "Spork," preteens think nothing of letting loose with an expletive or five.