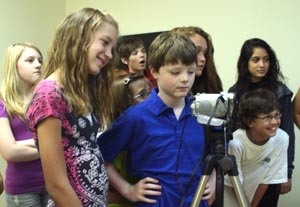 For young performers, show business is changing. Parents have to pay attention to ever-changing rules as well as be vigilant in protecting their children from the stress of auditioning.
In Back Stage's newest Spotlight on Young Performers, we look at a variety of issues facing child and teen actors and dancers. We corralled many of our best columnists to tackle issues ranging from proper etiquette with casting directors to to dance training to taxes. We also include a profile of the talented youngster from "Modern Family," Rico Rodriguez.
Below is a list of links to all the stories collected in this week's comprehensive issue. We hope you find it helpful.
They Grow Up So Fast
Not all young performers have the same needs. Toddlers auditioning for Pampers commercials are miles apart from 20-year-olds competing for teen roles on a sitcom.
The Right Track for All Ages
Always use common sense when contacting a casting director. Talent should know their boundaries and use proper etiquette.
Camping It Up
Back Stage recently spoke to alumni and employees of three summer theater camps, as well as two acting schools that offer summer programs for kids and teens.
Play Is the Thing
Children under the age of 5 easily slip into imaginary worlds of their own making. Is it possible that they hold the keys to understanding the fundamentals of acting?
Auditioning the Parents?
When I bring a child in for an audition, it's all about the work that they do in the room with me. Are they actively listening while they're doing the scene? Do they take direction well?
Less Coaching, Please
If you've never experienced a waiting room jam-packed with children being coached by mom (or dad) for their commercial audition, you've missed a riveting sociological process.
Dance Training for Children and Teens
It takes many years of study to acquire a professional level of dance technique, so aspiring dancers must begin training at a very young age.
Your Child's Taxes
Sometimes the rules we explain to parents who have invested in their child's career conflict with what they have heard on the street from other parents.
He's the Manny
What separates Rico Rodriguez from his peers is his hilarious performance every week as wise-beyond-his-years Manny Delgado on ABC's Emmy-winning comedy "Modern Family."