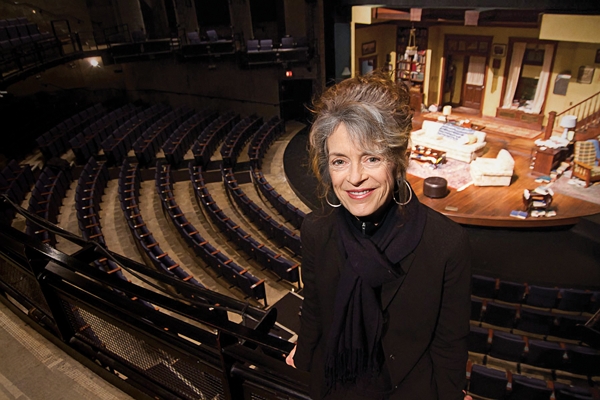 The first time Martha Lavey performed with the Steppenwolf Theatre Company, she was naked in body paint playing a South American Indian. Her then acting teacher John Malkovich cast her in what she calls a "notorious" production of Christopher Hampton's "Savages," alongside Laurie Metcalf, Glenne Headly, and Terry Kinney. She was living her dream.
Famously started in a school basement in 1974 by Gary Sinise, Jeff Perry, and Terry Kinney, Steppenwolf is one of the leading ensemble theaters in the country. So what's the secret? Give the actors a voice.
"The actor is the first and last handshake with the audience," says Lavey, who has served as the company's artistic director since 1995 and has been a member of the ensemble since 1993. "They ought to have things to say in the rehearsal room. Going into rehearsal at Steppenwolf is so freeing, not just for the ensemble members, but I think it's contagious within a company. The actors get to talk and share their opinions. And while that might seem like a patently obvious thing to do, we all know in the theater food chain the actor's pretty far down on the list. In the commercial theater in particular, unless you're a big giant star, there's a certain amount of anxiety about getting fired. That's not going to happen to you at Steppenwolf."
Lavey's background is as an actor; she also received a doctorate in performance studies from Northwestern University and has served on grants panels for the National Endowment for the Arts and Theatre Communications Group. She has appeared in 34 productions on the Steppenwolf stage, most recently in Frank Galati's adaption of "The March" in 2012. And the theater's 43-person ensemble boasts some of the biggest names in theater—and film and TV—today, such as Malkovich, Amy Morton, Joan Allen, and Martha Plimpton.
"The first thing is the respect for the talent of that individual," Lavey says of what makes a successful ensemble. "That's where it all starts. I believe that this person is fantastic, and then what happens is everybody gets better by being onstage with good people. I remember in my early days of knowing the ensemble, it was like, 'Oh, my God, I get it. They are each other's best audience. That's who they want to do well in front of because of their great regard for each other.' "
This respect has led to many successes for the company, such as the transfer of the revival of "Who's Afraid of Virginia Woolf?" to Broadway and the Pulitzer Prize– and Tony-winning production of "August: Osage County," by ensemble member Tracy Letts. When asked whether she has New York on the radar in programming, Lavey says no.
"If someone wants to take one of our plays there it's lovely, and if it works out it's lovely," she says, "but we do our plays for a Chicago audience."
There is no audition or application process to join the company, and while it rarely welcomes new members, it is always casting actors from the Chicago community; Associate Artistic Director Erica Daniels serves as the company's casting director. Steppenwolf also hosts smaller companies' productions in its Garage Rep series, which is another way to discover fresh talent.
"I give thanks every day for what I'm permitted to do in the world," says Lavey, "to have a platform for expressiveness and to really hope that I'm helping make Steppenwolf be a platform for other people's expressiveness—both our artists' and our audiences'."