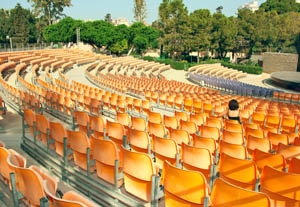 In anticipation of summer 2010, Back Stage looks at the various ways actors can stay busy in the sizzling season.
Outdoor drama, like Shakespeare in the Park and historical productions are just some of the options that exist for actors to hone their craft over the summer months. Back Stage offers a handy guide with national listings for summer training.
Also, The Public Theater's Barry Edelstein talks about the 2010 season of New York's Shakespeare in the Park, which is just a few short months down the road.
Do It The Bard Way
To most Americans, baseball is the sport of summer. But in the theater world, Shakespeare is the favored pastime.
Inside Outdoor Drama
Jordan Reeves had never heard of Fort Harrod Drama and its yearly outdoor production, "Daniel Boone: The Man and the Legend." But his audition impressed the show's producers.

Summer Shakespeare in the City
Al Pacino will play Shylock in "The Merchant of Venice" in a production directed by Daniel Sullivan that will run at Central Park's Delacorte Theater alongside "The Winter's Tale."
Summer Training Listings
A detailed breakdown for actors of national listings for summer training.