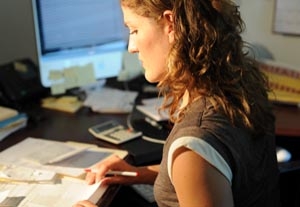 Those who embark on the acting life often experience a vast array of financial ups and downs. Work can be sporadic, payment may vary drastically, and the expense that comes with being a working actor—headshots, demo reels, class—is considerable. With the economy in decline, this balancing act is getting trickier and trickier, so managing your money responsibly is more important than ever before.
Budget or Move It!
Back Stage asked three actors to track their spending for one month to see how they're faring. A pair of financial experts then offered advice on how these ambitious thespians can best attain their financial goals.
Day Jobs You Don't Have to Hate
"I love teaching," declares New York actor Michael Mastro. "It took me a long time to admit that. I used to feel that if I wasn't making the majority of my income from acting, then I was a failure."
Saving for a Rainy Day
You have to pay your agent 10 percent and your manager 10 percent; why not 10 percent for yourself as well? Take that money right off the top and put it away for a rainy day.
Seeking Solutions
If a performer has been a member of SAG for five years and meets income eligibility requirements, the Self-Pay Assistance program will maintain medical coverage for that person.
Dancing On
The dance artists who are continuing to move forward in these times of economic distress are those who've been managing their finances carefully all along and heeded early warning signs of the downturn.
Bargains in New York
Even when the economy is good, actors can use bargains. Here are some favorites of the Back Stage staff.
Bargains in Los Angeles
Yes, the recession has prompted L.A. actors to be ever more intrepid. Try these bargains, or contact us and let us know what else you've been doing to save money.