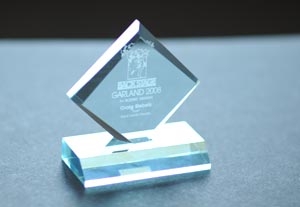 We excitedly announce the 2011 Garland Awards, voted on by the Los Angeles theater critics of Back Stage. 
For those of you wondering, under our voting system each Garland winner was named on at least three critics' "Best of 2010" lists. Each critic listed up to five nominees for each category except performance, up to 10 nominees for performance in musical productions and 10 for straight plays. 
Congratulations to the recipients. To leave us with a lasting memory of the excellence of your work is a huge triumph, considering the vastness of the local theater scene.
The Garland Award Winners
Here you'll find the 53 recipients selected from among the hundreds of possibilities our critics saw last year.
What Each Critic Picked
Here is a list of what each of Back Stage's Los Angeles theater critics chose to celebrate from 2010's round of performances in each category.
Yellow Fever
Prolific L.A.-based writer-producer-director-actor Del Shores has found joy in resuming the performing skills that he had seldom practiced in recent years.
Lorenz Arnell: The Bright New Star
When Lorenz Arnell was asked if he'd like the title role in the Fountain Theatre's production of "The Ballad of Emmett Till," his first reaction was, "Is this a trick question?"
Carmen Cusack: The Optimistic Musician
This Denver-born performer says she's delighted to have added a Rodgers and Hammerstein heroine to her résumé: Ensign Nellie Forbush, the cockeyed optimist.
Matthew Scott Montgomery: The Seer
Two qualities directors hope their actors bring to a project—energy and enthusiasm—would seem to be foregone conclusions when Matthew Scott Montgomery is cast.
Agatha Nowicki: The Listener
Agatha Nowicki overcame a fear. Initially intimidated by the role of Susie in "Parasite Drag," she fought back to earn rave reviews and a load of awards and nominations.
Joanna Daniels: The Inter-Actor
Joanna Daniels hasn't made a habit of it, but she admits to peeking out at preview audiences while she waited for her entrance in "Becky's New Car" at Pacific Resident Theatre.