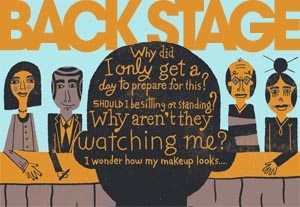 Letter From the Editor
Welcome to our first-ever Audition Issue, which we hope addresses a number of common questions and obstacles that actors have in getting seen for roles.

The Basics of Getting Seen for Theater, Film, and TV Projects
Stage, film, and television each have slightly different audition procedures and protocols, and it's sometimes befuddling to try to sort everything out.
The Psychology of Auditioning
Auditions are a necessary evil that all actors must go through. Unfortunately, they can really mess with your head.

CDs and Actors on Getting the Most out of Callbacks
For an actor, the callback audition is perhaps the most tangible form of validation. Somebody in the business likes your work, and they want to see you audition for the role again.

The Audition Checklist
Know what you are fighting for. Make sure your goal, your intention, or your motivation is so exciting that your stomach muscles are tight and your energy is high.

When Auditioning With Other Actors, Always Remember to Look Out for Number One
There's a simple formula for working with other actors at an audition, though it may sound harsh: Take care of yourself first.
The ABCs of Auditioning
Auditions: Hate 'em; apparently can't have a career without 'em. They can put a man on the moon, but they can't figure out a more benign way to cast an actor, right?

What are the Most Common Mistakes Actors Make at Auditions?
"When you walk into a room for an audition, do it like you have nothing to lose. Like you're on death row and there's no chance for a pardon and it's your last opportunity to say what needs to get said." - Gavin O'Connor

Strategies for Learning Dance Audition Combinations on the Spot
Here are strategies that may help you more quickly pick up dance audition combinations.

Top Tips for Audition Makeup
Female actors should strive to have a natural look to their makeup. Los Angeles hair and makeup artist Anthony Pazos offers best practices on getting such an everyday look.