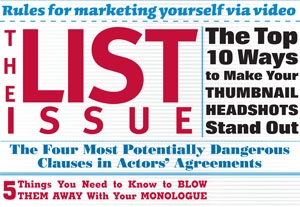 From wise investing and exciting action words to vocal dos and contract don'ts, Back Stage presents "The List Issue," the essential compendium of insider tips and outstanding advice from across the acting spectrum.
Five Inexpensive Ways to Help Your Acting Career
You know the biggest expenses an actor has: classes, headshots, union dues, online casting services, and post cards and other marketing materials. So try the following inexpensive ways to move your career along.
Kristin Linklater's List of Vocal Dos and Don'ts
"Know your voice—it's strong, it's sensitive, it's resilient, and it's you," says Kristin Linklater, founder of the Linklater Center for Voice and Language, before launching into her lists of voice dos and don'ts
A Year of Inspiration: Things You Can Do Each Month to Advance Your Career
If you steadily add to your actor bag of tricks and approach your career day by day and month by month, the pursuit of work and the steps required to advance your career will become second nature and feel a lot less daunting.
The Top 10 Acting Deductions to Take
How to be smart about your tax deductions to save some cash and make your money go further.
Mastering the Art of the Video Résumé
How to make your video résumé into a masterful piece of art.
5 Hip-Pocket Tricks for a Successful Commercial Audition
When you have only 30 to 60 seconds at a commercial audition, you really need what some hip-pocket tricks: easy, quick, powerful tools to create excitement, leave a memory, or paint a picture in the minds of the "they" who could grant you a gig.
Six Inspiring Biographies or Memoirs Every Actor Should Read
The staff of New York City's Drama Book Shop assembled this list of inspiring biographies and memoirs of theater and film people.
Five Things you Need To Know To Blow Them Away With Your Monolouge
Five easy tips to make your monolouge memorable.
The Four Most Potentially Dangerous Clauses in Actors' Agreements
If you're not diligent, you may give away more than you intended. The following are some common clauses to watch out for in the future.
The Top 10 Ways To Make Your Thumbnail Headshots Stand Out
Here are 10 tips to make your thumbnail headshots make a maximum impact.
The Top 10 Action Verbs To Have In Your Toolkit
In the lexicon of acting tools, the word "actions" can have different meanings. Here, gratefully borrowed from various sources, is a list of 10 action verbs to open your mind and spark your imagination.
The Literate Letter
Even though the agents, managers, casting directors, etc., you correspond with understand that you're trying to get work as an actor, not a copy editor or an 8th-grade English teacher, it is still important to make sure your writing is error-free.
10 Steps to Crafting an Email That Gets Opened And Read
How to write an email that demands a reader's attention.
The Wisest Investments You Can Make In Your Career
When actors think of investments, visions of dollar signs tend to flash before their eyes. Yet, some of the best career moves are less about money and more about critical thinking, savvy strategy, and a willingness to take chances.