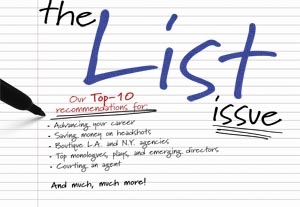 Back Stage's staff is always trying to come up with fresh editorial concepts and, above all, present helpful, actionable information for actors and other performing artists. With that in mind, we present our first-ever List Issue, which, as the title suggests, is all things lists.
-- Jamie Painter YoungNational Editor-In-Chief
Top 10 Things You Should Know About BackStage.com
Back Stage posts casting notices from all 50 states, Canada, and even overseas. In addition to productions in New York and Los Angeles—from top-of-the-line projects to student films—Back Stage posts many online-only casting calls for jobs in the rest of the U.S. and Canada.
10 Rare DVD Performances
Back Stage introduces you to ten rare DVD performances that every actor should have in their collection.
10 Plays Every Actor Should Read
Allen L. Hubby, vice president of the Drama Book Shop in New York, asked his staff to recommend 10 plays every performer should read. Not surprisingly, most are classics, but a soon-to-be-classic is included as well.

Boutique Agencies for You to Know
Boutiques agencies are smaller, specialized groups, servicing a specific group of actors for highly focused industry needs. Back Stage searched high and low for the 10 boutiques all actors should be aware of—and we ended up with 11 spectacular ones.
10 Directors You Should Know
These artists are by no means newcomers to the scene, but they've carved such fascinating and unique niches in their fields and brought such interesting actors to their projects that Back Stage feels you should get to know them.
Click, No Drag
Don't just take someone's word that a photographer is great. There are tons of headshots photographers who are great, but that doesn't mean they are right for you.
10 Ways to Advance Your Career
Establishing yourself in this industry is no mean feat, but it's also far from impossible.  Here are our tips for proactive actors looking to take their careers to the next level.