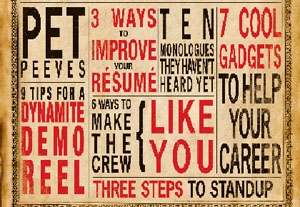 Back Stage lists out tips on how to deal with your agents, how to work with fake blood, how to succeed at stand-up, and many more pieces of advice all in list form.
Pet Peeves Actors Have About Other Actors
I hate when actors try to pass off old headshots as current. No matter how hard they try, actors can't make an audience forget the lines-on their faces!

Pet Peeves Actors Have About Their Agents and Managers
Noncommunication heads the list-from agents refusing to answer questions directly, if at all, to completely ignoring phone calls or emails or messages left on their Facebook page.
Tips for Working with Fake Blood
Vampires and zombies. Cops and corpses. Murderers and mad scientists. All parts an actor might be called on to play-and all will likely put you in the vicinity of fake blood.
Cool Gadgets to Help Your Career
When it comes to technology for actors, it's not just which gadgets we use, it's how we use them.
Myths, Mistakes, and Making It in Voiceover
Four or five actors do all the VO gigs. Not quite. There is greater variety than ever. With a renewed interest in real voices, more and more actors are getting a shot.
20 Essential Items to Pack in Your Dance Bag
When you're a dancer, your body is your instrument, yet "playing" it often requires a variety of items, which is why dancers lug around those enormous bags.
5 Dos and Don'ts for Remaining Your Agent's Favorite Client
The following dos and don'ts were offered to me anonymously by agents and casting directors who are, frankly, baffled as to why common sense just doesn't prevail with some actors.
The 5 Essential Components of an Effective Career Strategy
Creating a list of goals is vastly different from a) defining a clear focus that is centered on what you are most passionate about achieving and b) designing your life to feed that focus.
Networking Organizations You Should Know
In an industry so dependent on connections and who you know, it's important to get out there and meet people. But how and where? Consider these networking organizations.
Three Tips to Improve Your Resume
Enhance those credits that make you salable, says Paul Doherty, partner and head of the Los Angeles division of Cunningham-Escott-Slevin-Doherty (CESD) Talent Agency.
10 Monologues They Haven't Heard Yet
We asked the staff of New York's Tony Honor–winning Drama Book Shop for its picks for monologues that casting directors haven't already heard a thousand times.
An Emmy-Nominated Editor Offers Nine Tips for a Dynamite Demo Reel
Start with the work. You can also start with your name, but launch into the work as soon as possible. Do not have anything fancy like a slide show or montage at the top.
What You Need to Know About Signing Up for SAG
You confirmed that you are eligible to join SAG. You have decided you are ready to join. Now what? Here are eight things you need to know about the process of joining SAG.
Ways to Make Your Film Crew Like You
There are 1,001 things on set that can injure you if you are not paying attention. When a grip yells, 'Make a hole!' or 'Points!' they're saying it for your safety so you don't take a piece of dolly track or a c-stand to the face.
How to Make an Editor Like You
Be aware of what you are doing and how you are doing it from take to take and setup to setup. Often, great performances end up on the cutting room floor because actors didn't think.
3 Easy Steps to Standup
Trying to do your first standup comedy performance without any instructions can be like learning to drive with mittens: It's not fun and you'll probably crash. Here are three steps that will increase your chances of success.