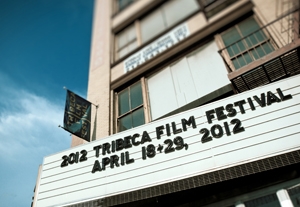 Artistic Director Frederic Boyer Has a Tribeca Film Festival Community
Artistic Director Frederic Boyer wants the annual Tribeca Film festival to be a community of filmmakers and film lovers.
SLIDESHOW: 12 Films Back Stage Looks Forward to at Tribeca
Back Stage picks the 12 narrative feature films you won't want to miss in this year's Tribeca Film Festival lineup.
The Top 4 Panels to Hit at the Tribeca Film Festival
In addition to a plethora of exciting films, Tribeca offers a slew of fascinating special events. Here are four that look hot.
Predicting the Best Performances at the 2012 Tribeca Film Festival
Established actors such as John Hawkes and Michelle Williams join up-and-comers Will Rogers, Jess Weixler, and Abbie Cornish at Tribeca.
Jenna Fischer's New Film Hits Tribeca Film Festival
'"The Office" star Jenna Fischer produces and acts in "The Giant Mechanical Man," written and directed by her husband Lee Kirk.
Actors Greta Gerwig, Ohad Knoller, and Julie Delpy Return to Tribeca
Greta Gerwig ("Lola Versus"), Ohad Knoller ("Yossi"), and Julie Delpy ("2 Days in New York") return to TFF after success at the fest.
Six Documentaries for Actors at Tribeca
Among the world-class documentaries premiering at this year's Tribeca Film Festival, many are of particular interest to actors and performing artists.

'Fairhaven' Actor-Director Brings the Wisdom of Tom Brady to Tribeca
New York theater actor Tom O'Brien makes his feature film debut as actor, writer, and director of "Fairhaven," co-starring Chris Messina and Rich Sommer.

Alex Karpovsky's Tribeca Film Festival Double Feature
Actor-writer-director Alex Karpovsky stars in "Rubberneck" and "Supporting Characters" at Tribeca, and has a recurring role on HBO's "Girls."
CD Rori Bergman Puts NY Theater Actors on Screen at Tribeca
Rori Bergman on casting "Nancy, Please," a new film that will have its world premiere at the Tribeca Film Festival on April 21.
DIY Filmmakers Take a 'Journey to Planet X' in New Doc at Tribeca
Amateur sci-fi filmmakers Eric Swain and Troy Bernier are the subject of "Journey to Planet X," a documentary premiering at the Tribeca Film Fest.
Back Stage at the 'Fairhaven' Premiere Party at TFF
After the world premiere of "Fairhaven" at the Tribeca Film Festival, Sarah Paulson and Chris Messina are happy to be in NYC, offer advice for actors.
Andy Dick, Crispin Glover, Michael Jai White Get 'Freaky Deaky' at TFF
Following the world premiere screening of "Freaky Deaky" at the Tribeca Film Festival, the cast and director spoke to the audience about making the movie.
Will Alex Karpovsky Be Tribeca's Breakout Star?
The star of TFF films "Rubberneck" and "Supporting Characters" talks about his role on HBO's "Girls" and what he learned from the Coen brothers.
Back Stage Q&A with 'Mad Men' Actor Rich Sommer, Star of 'Fairhaven' and 'The Giant Mechanical Man' at Tribeca
In our three-part Q&A, Rich Sommer talks about playing Harry Crane on "Mad Men," preparing for his Broadway debut in "Harvey," premiering two films at the Tribeca Film Festival, and more.
[
Part 1
] [
Part 2
] [
Part 3
]
Tribeca Film Festival Announces 2012 Award Winners
"Una Noche," "War Witch," "The World Before Her," and "Wavumba" take home top prizes in the 11th annual Tribeca Film Festival's juried world competitions.
John Hawkes on 'The Playroom,' Child Actors, and Daniel Day-Lewis
The Oscar nominee discusses acting with kids in his new film "The Playroom" at TFF and working with Daniel Day-Lewis on "Lincoln."