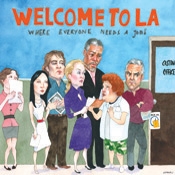 Dreams can come true here with as much ease as they can be shattered. If you are thinking of moving to Los Angeles, or are about to take the plunge westward, be certain that you take the right steps toward making your dream a reality and not a nightmare.
In our annual guide, Back Stage provides a comprehensive spotlight to help ease your transition. Find out where to live, network, and launch your Hollywood career! Plus, get advice on finding a roommate and hear from other local actors trying to make their mark.
Click on the links below to see the contents of this year's guide:
Landing in L.A.: You've hopped the plane and arrived at LAX. How to make sure you're prepared.
Secret Agent Man: Welcome to L.A. Not?: Back Stage's undercover agent lays out the red carpet. Sort of. "We don't have enough actors here," he muses, "so it always thrills us when one more shows up."
Places in the Heart: Hollywood? Los Feliz? Santa Monica? Find out which of L.A.'s neighborhoods suits you best.
Roomies: Living with actors is a skill all its own. Back Stage breaks down the pros and cons of living with a fellow performer.
A Room of One's Own: Only in L.A. for a short time? Learn more about the city's temporary housing options.
Quick References: For immediate answers check out this listing of actor-centric organizations, businesses, and services.