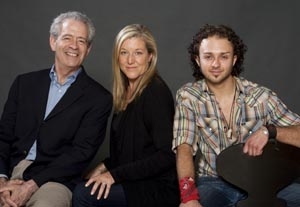 Sisters are not the only ones doing it for themselves. Performers are taking their careers into their own hands and, rather than waiting to be discovered, they're launching their own futures. And there's no better location to do it than New York. Even with the recession, this is still the ideal place to get your start on stage and screen.
In this Welcome to New York Spotlight, we take a look at actors who've started their own theater companies and produced their own films, TV shows, and new-media projects. In your pursuit of success, connecting with industry insiders and your fellow performers can be one of your most powerful tools, and our feature on networking offers strategies for staying in the loop. We've also included a guide to actor-friendly neighborhoods in the city and a budget for your big move.
So welcome to New York. And break a leg.
David Sheward
Executive Editor, New York
Back Stage
Urban Pioneers
It's a familiar New York story: Actors and other artists on a quest for space and sanctuary settle in less-desirable locales that, five or 10 years later, become the next vein to be tapped by real estate speculators.
The World on a Shoestring
Recently Woody Allen told USA Today that he finds shooting in his beloved New York too expensive nowadays, which is partly why he has made several of his recent films in Europe.
Schmooze Alarm
If anyone has proved the Woody Allen maxim that "80 percent of success is showing up," it's actor-producer Dan Griffin. In 1995, he went to the set of the TV series "Central Park West" for three days straight, hoping to land a background role.
Budgeting Your Movie
For an actor, New York is one of the best cities on earth. It's also one of the most expensive. Professionals in the business suggest saving three months' worth of expenses before moving here, particularly if you don't yet have a job or a place to live.
Company Town
The Amoralists was born in 2006, and though its founders haven't yet obtained tax-exempt status or defined their respective roles, they are, according to the company's mission statement, "dedicated to an honest expression of the American condition."