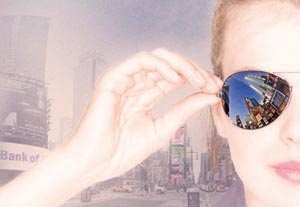 Every year, thousands of newcomers pour into New York City to make their dreams of an acting career come true, and every year we at Back Stage offer advice and counsel to those dreamers and doers in our Welcome to New York issue.
The Big Apple can be intimidating, so for this Spotlight we're getting back to basics and giving you newbies an introduction to the city and how to survive it. These articles will show you how to make a budget, navigate Gotham's complicated transportation system, get a survival job, start your own business, assemble your acting family, even what apps to load onto your smartphone.
New York has a reputation for being a tough, heartless town, but the actors we interviewed reveal that there are plenty of people and organizations to help you along the way. We want to be one of them. For more than 50 years, Back Stage has been the actor's lifeline, and we plan to be for another 50.
And if you're headed to the other coast, we've got you covered there too. Just turn to our Welcome to L.A. section. Either way, Back Stage has got your back.
David Sheward
Executive Editor, New York
---
How to Network Your Way to an Acting Family and Helpful Industry Connections
With thousands of actors already in New York and many more coming each year, finding a community in this expensive and intimidating city can be daunting, particularly given New Yorkers' notoriously competitive nature.
Apps for the Big Apple
Thanks to tons of applications for the iPhone, iPad, Blackberry, and Android phones, navigating the Big Apple is easier and more portable.

Working on Student Films Can Build Your Reel and Resume
From the New York Film Academy to Columbia University and NYU, New York is a hotbed of graduate and undergraduate film production.
Which Survival Job is Right for You?
Like so many performers trying to catch their first breaks in New York, Jaime found that a full-time job wasn't leaving her the spare time she needed.
Living in New York City on a Modest Budget
New York City can be one of the most expensive places in the United States to spend a day, let alone live. You can't avoid spending money when you live in New York, but you can always spend it with prudence.
Finding Your Way Around Gotham
With its skyscrapers, crowds, and mysterious odors, New York City may be intimidating and confusing to newcomers. But rest assured, there is a method to the city's madness.
Three Enterprising Actors on Minding Their Own Businesses
Entrepreneurial actors agree that they prefer running a business of their own to temping at law firms or waiting tables or tackling the many other jobs that actors typically take between acting gigs.
A Transplant's Guide to New York
Advice columnist Jackie Apodaca, a West Coaster who has lived in New York, goes toe-to-toe with fellow columnist Michael Kostroff, a New Yorker who has lived in Los Angeles, on the quirks of each town's culture.