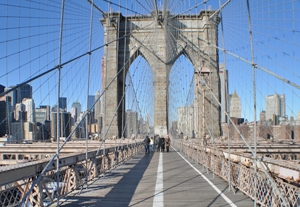 Dear New New Yorker,
Congratulations! You've made it to New York City. If you watch NBC's "Smash," you may think you know exactly how to tackle the Big Apple. Well, you probably don't. Life isn't as easy here as Katharine McPhee's Karen Cartwright makes it seem; you'll probably be working at a coffee shop far longer than her singer-actor character did.
To help you avoid some of the perils and pitfalls of moving to the big city -- though not all of them, because there's something to be said for learning the hard way -- we've compiled a handy guide to life here. To start, forget about what you've seen on TV. The fastest way to seem like an imposter is to act like a character on "Sex and the City." And don't be in a rush to check out the landmarks; there will be plenty of time for that later, once you are a hardened New Yorker.
To achieve that goal, just check out our breakdown of how to seem like a local. The key points to remember  are that sidewalks are for walking -- fast -- and your head should always be down, not gawping at the skyline.
Elsewhere, we discuss the film and TV opportunities available for actors (yes, New York City isn't just Broadway), including some currently filming TV shows that might be worth aiming for. And some working actors weigh in on their neighborhoods, extolling the virtues of Astoria living or finding an apartment on the Upper West Side.
Our Career Dispatch contributors let you know their favorite locations for networking, a vital skill for any actor, particularly in NYC. And we've even drawn a map of the all-important midtown area and included the most popular destinations for anyone trying to break into the business of show.
Being an actor in New York City can be daunting, but our "Welcome to N.Y." package will hopefully ease the strain -- and a subscription to Back Stage will definitely help. Just saying!

 -- Back Stage

How to Act Like a New Yorker
Fresh off the bus in NYC? Our advice is shut up about "Sex and the City," drink at Chipotle, and leave your cameras and fanny packs where you came from.
Come to New York for Broadway, Stay for 'Smash'
Dozens of films and TV series, from "Boardwalk Empire" and "Blue Bloods" to "The Good Wife" and "White Collar," shoot in New York City.
New York Actors on Why to Live in Their Neighborhoods
Stars of "Newsies," "Perks of Being a Wallflower," and "One Man, Two Guvnors" discuss their NYC neighborhoods.
Networking in New York
Hot spots for connecting with your fellow actors in NYC, including UCB, Naked Angels, and Shakespeare Forum.
Five Essential Actor Hot Spots in Midtown Manhattan
Whether attending auditions or looking for a place to unwind, here are five destinations you need to know in Midtown.