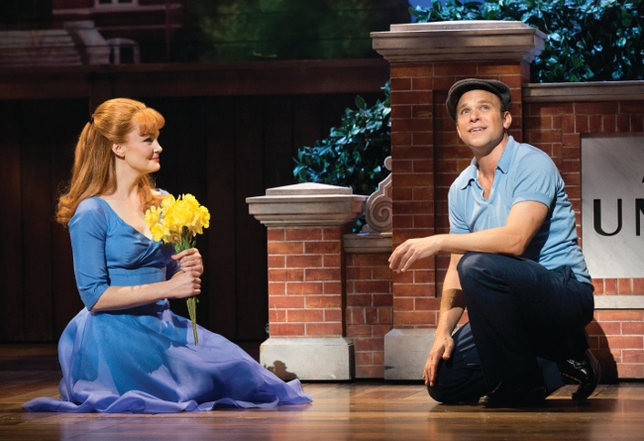 Some major marquee names are coming to Broadway this fall.
Ethan Hawke will play the title role in Lincoln Center's "Macbeth." Mark Rylance is bringing his critically acclaimed, all-male productions of "Twelfth Night" and "Richard III." Patrick Stewart and Ian McKellen are set to deliver "No Man's Land" and "Waiting for Godot" in rep. Cherry Jones takes on the ultimate matriarch in "The Glass Menagerie." Two-time Tony winner Norbert Leo Butz is leading a new Broadway musical again with "Big Fish." Jefferson Mays is transferring his tour-de-force performance with "A Gentleman's Guide to Love and Murder," which had productions at the Old Globe in San Diego and Hartford Stage in Connecticut. And in perhaps the most starry production, real-life couple Daniel Craig and Rachel Weisz will play husband and wife in "Betrayal."
What makes all of these names different from others who might populate billboards just to add a credit to a résumé and try for an EGOT? Most of them got their start in theater.
"They're really good actors, which is the best of both worlds," says Adam Feldman, New York Drama Critics' Circle president and Time Out New York theater critic. "Celebrity casting can be great. It brings people to the theater…. We're talking about real actors who happen to also be names."
Just as fall is full of classic stage stars, classic works are also having a resurgence on the Main Stem. Four Shakespeare plays are going up before December, as are many other high-profile ones throughout the city, including the Elizabeth Olsen–led "Romeo & Juliet" at Classic Stage Company and the Julie Taymor–directed "A Midsummer Night's Dream" at Theatre for a New Audience. The climate for new plays is looking dim, as the only ones on the slate for fall are Sharr White's "The Snow Geese" and Rupert Holmes' adaptation of the John Grisham novel "A Time to Kill."
"I actually think it is a healthy mix of new and old this year, but you know, for me who has spent the better part of my career supporting and fighting for creative artists, there will never be enough new work," said American Theatre Wing executive director Heather Hitchens. "The economics of Broadway are challenging for even the most familiar work though, and so one has to factor that in."
However, four new musicals are coming in: bio-musical "A Night With Janis Joplin," "Big Fish," the revue "After Midnight," and the music-hall tuner "A Gentleman's Guide to Love and Murder." As with most musicals, all four are adapted from source material. "Joplin" is based on a memoir; "Big Fish" comes from the 2003 film; "Murder" is from a book; and "Midnight," which played at New York City Center as "Cotton Club Parade" in 2012, is billed as a celebration of Duke Ellington.
"As this is becoming more common, creative teams are figuring out that you have to make it their own thing," Feldman says of musical adaptations. "Just living off the residual energy of the movie is not going to work."