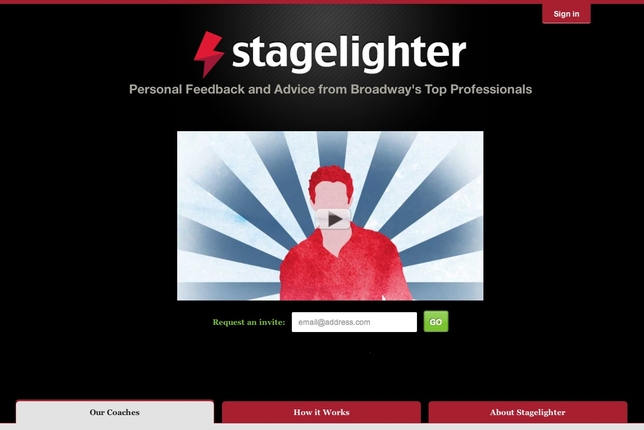 Breaking into the entertainment industry is difficult no matter where you are located, but if you live in outside New York or Los Angeles you might find this career path a bit more challenging. Drawing from personal knowledge of the audition process, singer and performer Tadzio Smith is making this course a little smoother for budding stage actors with Stagelighter, a new website he co-founded, The srvice links members, or performers, to coaches who include leading directors, actors and casting directors.
Smith created the website out of a wish that something similar had existed when he was starting out. Growing up in a small town on Vancouver Island off the coast of Canada, Smith was puzzled over how to go about pursuing his dream career. After attending McGill University and Miami University of Ohio for graduate work, Smith moved to New York City and learned how to audition through meeting experts in the field.
"When I came here [to New York] it was an eye-opening experience for me because suddenly I had access to all of these great people and I realized I had been singing totally the wrong repertoire and auditioning the wrong songs," Smith told Backstage. "The idea [for Stagelighter] was sort of based on the fact that I knew there where countless other people like myself who could really benefit from connecting with people who had already succeeded in the industry and people who are working in the industry right now. [Performers] could learn from their experience."
Stagelighter users are asked to upload audition materials, such as resumes, headshots and performance videos, onto their personal page. They can then peruse the coaches portion of the website, which lists over a dozen potential mentors and includes their biographies as well as a video introduction. Once a Stagelighter user selects a coach, the coach will then review their audition materials and give a thorough written critiques. The feedback is often so detailed that coaches will even comment on what the performer is wearing in their video and whether it is working or not.
Currently, Stagelighter is running a special discount and a coach's advice generally costs between $59-$79. Stagelighter users can also see how long it generally takes a certain coach to respond, and every critique they order is saved on their personal page.
Smith has been able to amass an impressive line-up of mentors as well, many of whom were drawn to the website because of their personal experiences at the start of their careers.
"[Tadzio] reached out to me and I was very impressed by his presentation and the concept of the company," said casting director Tiffany Little Canfield, who is part of Telsey + Company and has worked on projects ranging from "Smash" to the "Spider-Man: Turn Off the Dark." "I also remembered being a drama student in California and the idea of being in a region studying and having access to the NY industry would have been very, very appealing to me.""
Many of the coaches also already have experience as teachers and mentors, like Ted Sperling who won a Tony and Drama Desk Award for the orchestration of "The Light in the Piazza" in 2005.
"It's something you do naturally as a music director and director," Sperling said of coaching. "There was a period early in my career when I played lots of auditions, both for individual friends and for day-long sessions, so I've seen literally thousands of auditions over the years. And in more recent years, I've had the opportunity to perform onstage on Broadway ('Titanic') and be coached and directed by others, so I feel well-equipped to pass on my years of experience. I very much enjoy helping people discover new aspects of approaching their material."
The structure of Stagelighter also offers performers to work with one or multiple coaches over an extended period of time to really improve their craft. With each session, a coach will give an artist advice on what to work on for an additional critique in the future. Stagelighter is particularly suited for budding performers who haven't received much exposure to the New York theater world yet. Little Canfield says one of the most common mistakes she encounters in young actors is a fixation "on who they are in the context of their theater program."
"When you are in a theater program, you are hearing one very strong point of view (usually a good one) but as we all know, performing is an art form and very subjective," Little Canfield continued. "There isn't one way to do something and learning to hear all points of view and develop your own personal point of view is a great first step to becoming a professional artist."
While Stagelighter went live a couple of months ago, Smith noted his team, including co-founder Peter Wilson, are still tweaking the website based on commentary from current users. As of press time, Stagelighter is accepting names and email addresses for their wait-list, as the site is currently at capacity in terms of the number of users their system can handle, but Smith added that his team expects to incorporate new users in the coming weeks.