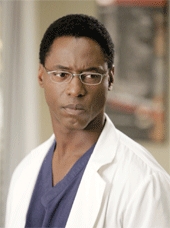 Isaiah Washington is keenly aware of himself as an African-American actor. "I'm always sensitive to my own community," comments the outgoing 42-year-old Houston, Texas, native. "Even if I'm playing a bad guy, I work hard to make him multileveled and interesting. And when an African-American says to me, 'We love what you're doing,' he's not just talking about my acting but also the kind of character I'm playing. Dr. Preston Burke is a heroic figure. He is a surgeon: a strong, intelligent, and durable African-American male who has earned his position."
Dr. Burke, often imperious and haughty, is the deputy chief of surgery at Seattle Grace Hospital on ABC's hit medical drama Grey's Anatomy, a program noted for its ensemble acting and youthful and racially diverse cast. Most striking, considering the show is set in a post-civil rights, post-feminist universe, is that there is no special pleading here. African-Americans and women head medical departments, and a level of equality between the sexes is the expected--if not always achieved--norm. These are precisely the elements that speak to Washington. He says, "I've learned a lot about relationships between men and women--at least the way women perceive those relationships--because the show is created by a woman, Shonda Rhimes."
Indeed, Washington likens Rhimes to playwright Lorraine Hansberry in the way she reveals character in all its human flaws. "It's very easy to reduce people to types," Washington notes. "Shonda doesn't do that. She has broken the mold in allowing characters to speak universally and at the same time remain true to who they are. My character, Dr. Burke, for example, is arrogant--and frankly, in the beginning I had problems playing anyone quite that arrogant--but he's not a one-note guy. Layers get peeled off."
Still, there is no shortage of acting challenges, including mastering the medical terminology. "They have to come trippingly off my tongue, as if I've been saying these things for years," says Washington. "I have to sound medically astute."
In preparation for the role, Washington spent time with surgeons, many of whom were African-Americans. "But they were doctors first and black men second," he says. "And yes, they are arrogant. And should be. A cardiac surgeon, for example, has to open someone's chest, keep bleeding at a minimum, not injure any other organs, and close the chest within four hours."
Washington does not think he is as cocky as Dr. Burke, but he admits, "There was a time in my life when I was that selfish and driven. I did it to survive. I remember one audition I went to many years ago where I ran into a number of very well-known actors auditioning for the same role. I said, 'You motherf***ers can go home now. This gig is mine.' I didn't get the part, but I'm sure a couple of those actors still remember me."
They surely know Washington now. He has appeared in more than 40 films, including the soon-to-be-released comedy The Moguls, co-starring Jeff Bridges. Other credits include Steven Soderbergh's Out of Sight, Clint Eastwood's True Crime, and a number of Spike Lee flicks, with which he is most identified, including Crooklyn, Girl 6, Get on the Bus, and Clockers. On the small screen Washington has guest-starred on such programs as NYPD Blue, Law & Order, Homicide: Life on the Street, and Ally McBeal.
Washington is also very much the family man, married with three children and committed to his heritage. He recently had a DNA test to determine where his ancestors came from. "On my father's side I'm from Angola; on my mother's it's Sierra Leone," he elaborates. "My bloodline is 99.3 percent African. In more than 1,000 years, there has been no miscegenation in my bloodline. That's important because it's believed that all African-Americans have European blood. It's not true"
"I took the DNA test because I was curious," Washington continues. "When I'm asked, 'Where do you come from?' 'Houston, Texas,' is not the answer they're looking for. I now have a legacy. It's closure."
His father was a grocery store porter and later a "jack-of-all-trades in construction"; his mother was "the first African-American to be licensed as a barber in the state of Texas," Washington recalls proudly. He adds that his ambition was to be a football player; that is, until he saw Lee's She's Gotta Have It.
"It blew my mind," Washington marvels, even in retrospect. "For the first time, I saw people on the screen who looked and talked like me. Also, I had never heard conversations [as frank and uncensored as] that onscreen before. When I saw that movie, I knew what I wanted to do."
Washington majored in theatre arts at Howard University then pounded the New York City pavement in search of acting gigs. At the same time, he created City Kids Repertory, a theatre company that traveled to schools in an effort to bring relevant productions to high-risk kids. "It was largely singing and dancing and inspirational stuff," he notes. "Our goal was to get the kids off crack. And it worked. But then the resources were no longer there." He pauses, "I said to myself, 'I'm not a trained social worker anyway. I want to be an actor.'"
Soon Washington was making his living in voiceovers, commercials, and soaps, while honing his craft in regional theatres nationwide. He was also appearing in a host of movies that he now views as simply "exploitative to African-Americans" in their perpetuation of brutish stereotypes. "And I was contributing to the problem by participating in these films," he admits. "I finally decided, 'I'm no longer going to play thugs or debauched cops that I can't possibly make complex characters. I'm bigger than that. I owe too much to too many good people at the Goodman, Arena, and Playwright's Horizon.' Was my lifestyle cool? Yeah. Was I able to buy a house? Yeah. But it hit me: It was time to get back to basics-to hope and faith. To wait and find something worthy of the time I've spent investing in this craft."
He suggests that the problem African-American actors face on the big screen is part of a larger conundrum throughout Hollywood. "The business has changed," he observes. "Actors are not important at all. It's only about star power, how many DVDs will be sold. The producers have straitjacketed themselves with their star projects-paying one actor $35 million before he's shot one roll of film. The trend started with Jim Carrey and Cable Guy. Now every actor wants at least $20 million. It is the undoing of Hollywood. Many actors can't take it anymore. They want to be in productions that say something, like Hotel Rwanda."
Washington has no doubt that his current series, Grey's Anatomy, embodies--if not literally voices--views of consequence. And while that's television, not film, he believes that "television is the most advanced medium."
He ends the conversation philosophically--elegiacally may be a more precise description. On one level, he insists he has no regrets. "I wouldn't change a thing," he says. "If I did, I wouldn't be who I am." On another level, he admonishes himself for not always seizing the day. "If I could redo my life, I'd go hear Miles Davis, and I'd also sit for an Al Hirschfeld portrait," he concedes. "When I had a chance to hear Miles Davis, I figured I could do it next time he performed. There was no next time. He died."
"And I always dreamed of being in a Broadway play and opening the Arts and Leisure section to see an Al Hirschfeld drawing of me in the paper," Washington continues. "So when I had the chance to have my portrait drawn by him, I turned it down; there was always time." He was still thinking about that Broadway play he would star in, leading to the gently mocking cartoon in The New York Times. "That didn't happen," notes Washington. "And then Al Hirschfeld was also gone."