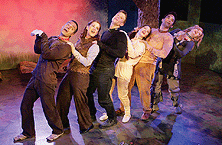 In the competitive L.A. theatre arena, it's gratifying and rare to mount a show that finds its audience and sets down roots for a healthy extended run. Whether the show turns a nice profit or merely dodges red ink, it can be a huge boon to the reputations of the participating artists. Some companies, such as the Colony Theatre in Burbank, seldom consider holdovers because commitments to subscribers mean the season's schedules are tightly locked in. These theatres occasionally move bigger hits to other theatres to continue the run. Others, such as the Fountain Theatre and Pacific Resident Theatre, build enough flexibility into their seasons to accommodate runaway successes when they occur. A different breed is the independent production mounted in a rental venue, announced for a minimal run while producers keep their fingers crossed that audiences will spread favorable buzz. For insight on successful extended runs, Back Stage West spoke with the producers of two recent small-theatre productions that became bigger hits than expected.
Chasing the Bone
The musical Bark!, an upbeat revue peopled by actors in dog costumes--which might be considered a scaled-down canine version of Cats--opened at West Hollywood's Coast Playhouse on Sept. 17, 2004. After an initially slow three months--despite generally enthusiastic reviews--it suddenly took off. The currently announced closing date is Oct. 9, but there's every indication the show's pattern of regularly announced holdovers is far from over. The key driving forces behind this little-puppy-that-could are composer David Troy Francis, a renowned classical pianist taking his first plunge into producing, and prolific director-choreographer Kay Cole. The inspiration for the piece came to Francis after he composed four songs for a documentary film, Dogs. He launched the project in collaboration with a longtime associate, Gavin Geoffrey Dillard, and Robert Schrock, former Celebration Theatre artistic director. Besides composing the songs and producing, Francis served as musical director and editor for a team of lyricists (Dillard, Schrock, Jonathan Heath, Danny Lukic, and Mark Winkler).
According to Francis, the germination period from conception to opening night was three years. "I took things one step at a time," he notes. "We did a workshop in January 2004 that was overwhelmingly successful--packing the house during nights of heavy rain." At that point, he brought Cole aboard. Says Francis, "We started on the [Actors' Equity Association ] 99-Seat Plan, and we are now a full Equity-contract production." According to Maria Somma, national spokesperson for AEA, once productions under the 99-Seat Plan reach 80 performances, they must move up to a suitable category of Equity contract, with more stringent requirements regarding pay and other matters.
Francis negotiated with Equity to determine which of its plans would be required for his new contract. Though theatres typically don't have many options, as the contract is defined by the parameters of the particular production, Francis says Western Regional Manager John Holly was very supportive. "We couldn't have remained in the red with the original demands we heard," Francis says. Playwright Del Shores (Sordid Lives, Southern Baptist Sissies) and Falcon Theatre producer Garry Marshall provided useful advice for Francis as he was negotiating with union representatives. Francis says his understanding is that his assigned contract will remain effective as long as the show continues this run. "I'm depending on it, as we just had a rent increase," he says.
He learned another painful business management lesson with the liability insurance policies that are legally required for company members and audiences. He initially made a payment of about $1,800 and thought that was it, but he later realized there were additional periodic payments he had to deal with, some close to $3,000 apiece.
One thing that hasn't been difficult for him was replacing actors as the run continues. "We've employed 50 actors in the year we've been open," he says. "And we still have two from the original cast. Our cast has been very lucky about getting roles in other plays or films. We're completely understanding when they leave, because we're in a small theatre and can't match the money the actors can make elsewhere. We're happy for them when they get these jobs."
Francis and Cole always maintain at least one understudy for each role, which keeps them well-prepared for the expected dropouts. "We continue to seek out Equity actors when we hold auditions," Francis explains. "We have hired a few very talented non-Equity actors as understudies. Our contract allows that." He says there's no shortage of first-rate performers showing up for the casting calls. "We put a notice for two understudy roles in Back Stage West about three months ago, and had 127 people show up," he adds. "They came from New York, Philadelphia, Pennsylvania, everywhere. It was absolutely amazing."
He admits that he and Cole have to spend considerable time individually rehearsing cast replacements and conducting more rehearsals with the whole group. "I work 18–20 hours a day on Bark!" he remarks. "If I had children, or needed to generate another income, I couldn't do this show. It would have closed a long time ago. But in many ways, it's a labor of love for me."
He leaves strategic marketing matters to his publicist, David Elzer, but admits that announcing a string of extensions is an effective tool for maintaining awareness of the show. Based on the patterns he has seen thus far and the population of Los Angeles, he hopes and believes Bark! can continue to run successfully at the Coast for at least five more years. A New York debut is planned for next year, with an opening in another major city soon to be announced.
Killer Hit
Due to a tremendous reception during its Off-Broadway premiere, the gritty pitch-black comedy Killer Joe, by Tracy Letts, a Steppenwolf Theatre member, would seem to have qualified as a major theatre event when it made its West Coast debut in March at Hollywood's 40-seat Gardner Stages. The buzz on Killer Joe was augmented by a Pulitzer nomination for Leeds' subsequent play The Man From Nebraska, which has its West Coast premiere at the South Coast Repertory in February, helmed by Oscar-winning film director William Friedkin (The French Connection, The Exorcist). With only one production--albeit an acclaimed one--under the belt of her 2-year-old Lost Angels Theatre Company, Artistic Director Laura Niemi campaigned relentlessly to secure the rights from an initially skeptical Letts, and she succeeded. She secured a cast composed of all Steppenwolf actors, including the one who originated the title role in New York. Having nabbed the plum property, Niemi set about mounting the challenging piece with a bare-bones budget for production and marketing.
Despite the show's pedigree, Niemi says she was surprised at how much trouble she initially encountered getting sufficient press coverage. She believes one of the first reviews to appear, a rave in The Hollywood Reporter, is what turned the tide. It was augmented by several additional laudatory notices. In Back Stage West, Paul Birchall called the production, directed by Scott Cummins, "dynamic...burning with fierce energy and undercurrents of menace...a cracklingly rendered dose of white-trashy grotesquerie punctuated by dark, bleak humor." Niemi continues, "After the Reporter review came out, we had 200 calls in less than a day." Performances began selling out like wildfire, and the original six-week run was extended three times, in two-week increments, closing after 12 weeks."
Niemi admits that her strategy was to "come in with a bang and go out with a bang." She could have kept the show running much longer. She says the cast would have likely been available, and the owner of the theatre would have been happy to keep a hit show playing there. "Everybody told me I was crazy to close when I did," she continues. "But I felt the writer deserved to get out on top. People still stop me in the market or send me emails saying it was the best thing they had ever seen in L.A. So I feel we did the best we could possibly do with that material. Meanwhile, the paradigms of Niemi's tight-knit but casually structured theatre group keep it in a position to do shows with open-ended runs. Niemi says Lost Angels is committed to presenting the finest scripts it can find. Plans are being finalized for the next production, to be announced later this year. "I'd rather do two shows a year with this kind of impact than to spread our resources out among six or eight productions that are less than the best," she concludes.BSW