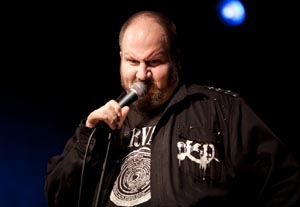 The path to success in the mercurial entertainment industry is seldom clear-cut. But, for the standup comics of yesteryear, there was a pattern of sorts: Get booked into the clubs, tour, and build your following slowly but surely. And while that's still a crucial component of creating a career, the rise of the Internet has introduced a new element to the business of being funny.
Thanks to video-sharing sites like YouTube, it's now possible for wannabe comics to access millions of people without setting foot in a brick-and-mortar club. "We're always going to need live standup comedy, but the Internet is a quicker way to get to comedians," said Abbey Sibucao, co-creator and producer of the standup comedy event Stand Up at Candor. "It gives everybody an equal playing field. If they put their jokes up on Facebook or MySpace, it just takes one person to pass something along to a friend who will pass it along. All you have to do is tell somebody the comedian's name. You don't have to wait for them to come to your town."
This means it's increasingly necessary for up-and-coming comedians to be savvy about using the Web to get their work out there, which might entail posting bits on YouTube or keeping fans updated via social networking sites such as Facebook and Twitter. "Comedians need to be utilizing these tools to get the word out on themselves and to create this one-to-one relationship with their comedy fans," said Will C. Rogers, founder and CEO of the interactive-comedy production company Rooftop Comedy. "What's so exciting about these interactive media tools is the ability for comedians, in a low-cost or even no-cost fashion, to be able to really generate additional fans in a way that was never feasible before."
Rogers is a passionate advocate of connecting comedians directly to fans via the Internet: His company records dozens of performances every night at comedy clubs around the country, then distributes the highlights online at RooftopComedy.com, as well as via partners like iTunes and Yahoo. "Our average clip gets seen about 50,000 times," he said. "So instead of a comedian playing for a room of, say, 300 people, we're taking the best of their performance that puts them in the absolute best possible light and putting that clip in front of 50,000 people."
Likewise, select clips from Sibucao's monthly Stand Up at Candor event—which is a component of Los Angeles–based multimedia production company Candor Entertainment—are broadcast on various Web destinations—including CollegeHumor.com, Hulu.com, and the company's own site, CandorTV.com. This, said Sibucao, makes it possible to introduce a whole new generation of comics to potential fans. "And once they do get up online, they may find they have a huge following in Boston, and they can start hitting places where they know people are going to show up," she said. "I think the new wave of comedy being online is the best way to go."
Old School
That said, the traditional way of building a fan base remains a key part of the process. Comedian Bill Burr, who has performed extensively around the country, said consistently playing clubs is still the best way to grow a solid following. "I know on the Internet, you can have a clip and that type of thing, and that can get people to come out and see you, but if you stink, they'll only go see you one time," he said. "I don't think anything could ever replace the importance of live performance. I think YouTube and those types of things, it's more like a great commercial."
Rogers noted that there was "some legitimate concern" from clubs when Internet video first started to flourish. "It was an unknown entity. Was this going to cannibalize patronage at comedy clubs?" he said. "But watching online is a quick way to do something over your sandwich while you're sitting at your desk. That's a different experience than going out with your friends to a comedy venue and having a live performance experience, where you're really surrounded by laughter." Rogers noted that patronage at the comedy clubs his company works with has increased in recent years.
Jamie Masada, owner of the Los Angeles–based club the Laugh Factory, agrees that there will always be an audience for live performance, and rather than detracting from that audience, the Internet only enhances it. "If you go on YouTube and you see a guy and he's funny, you say, 'I want to see this guy.' Then you discover that that person is working in such-and-such comedy club. You'll make an effort to go see him," said Masada. "It helps the club."
And in the end, club performances also help comedians: There's no substitute for a live audience when it comes to honing your chops. So even though part of your breaking-in strategy may involve an eye-catching YouTube video or two, traditional open mikes are still an important part of getting in the door. "The word's not gonna get out if you're sitting in your living room instead of getting on all the stages that have open mikes," said Margie Coyle, co-owner of the Austin, Texas–based Cap City Comedy Club. "You get out, you do open mikes consistently, and if you are funny and if you are talented, eventually you'll get on somebody's radar."
Make 'Em Laugh
Ultimately, the path to breaking in these days doesn't rely on any single thing. Up-and-comers should be prepared to take advantage of a variety of elements. "I think comedians should be placing multiple bets," said Rogers. "You really don't want to say, 'I'm just gonna try to become an online phenomenon without any sort of real stage experience.' You want to get stage experience, but use the tools that you have at your disposal to get out there and build a following on the interactive-media arena as well."
And be smart about how you utilize those tools. Burr, for instance, is selective about the clips he puts online. "The fans want you to keep having new videos," he said. "It's like, 'Dude, if I put out all my new stuff, by the time I get to your club, my new stuff is gonna be old stuff, and you'll be looking at me like I didn't do the work.' The clips I put on the Internet are more like random moments from shows that are unique. So you still get a laugh, but I don't have to burn any material."
And while you're perfecting your various strategies, be they online or old-fashioned, keep in mind that success often comes down to the reason you decided to give standup a shot in the first place: making people laugh. "I think it's really me working on my craft and making sure that when I do perform, I'm a really good comedian," said standup Steve Trevino, who has been featured at Stand Up at Candor. "I think that's really helped me. Recently, I met [TV producer] David Himelfarb, and we're going to go into development over at ABC, hopefully. He saw me do a great job, and he enjoyed my standup, and there's no fake hype behind me; there's no, 'Ooh, that's the hot kid in town.' That's what my goal has been: just to be a good standup."