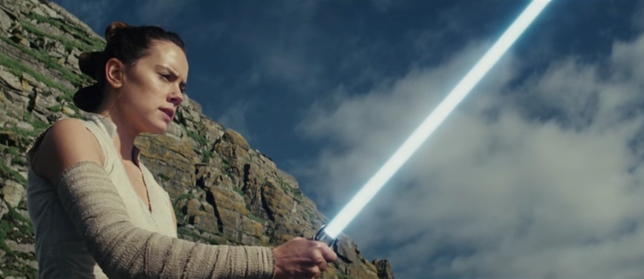 "Something inside me has always been there," says Daisy Ridley's Jedi-in-training Rey. Now it's awake, and I need help."
The official trailer for "Star Wars: The Last Jedi," the newest installment of George Lucas' space opera spectacle, already has fans chomping at the bit. Starring Mark Hamill, the late Carrie Fisher, and the franchise's new generation of stars—Ridley, John Boyega, Oscar Isaac, Andy Serkis, and Adam Driver—the Rian Johnson-directed Episode VIII picks up where Episode VII, "The Force Awakens," left off: as the battle between the Resistance and First Order intensifies, the gifted Rey turns to a reclusive Luke Skywalker for guidance, lightsaber in hand.
WATCH: Carrie Fisher Auditions for 'Star Wars'
Will Luke join Rey in the fight between good and evil? And who exactly is the last Jedi? The answers await Dec. 15. Check out the trailer below.
Check out Backstage's film audition listings!