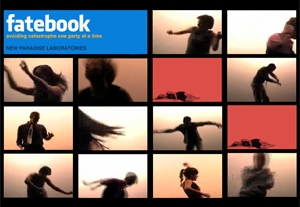 Philadelphia-based theater company
New Paradise Laboratories
incorporates the internet as an interactive introduction to its fictional theater productions. Audiences can watch stories and characters evolve on Facebook, Twitter, Flickr, YouTube, and other social networks before seeing the show on stage.
For an NPL production called "Fatebook," the performance began online, following the characters' virtual interactions with each other. The theatrical experienced culminated in a live performance where they met at a party.
"I feel like it's like a medium where stories can be told in a whole bunch of ways," NPL's artistic director Whit MacLaughlin told
Mashable
. "I wanted to find out how you use translate theater into an online space. You have to figure out the narration of social media — how to convey something about a person."
The theater company works with actors to develop characters across multiple social networking accounts. Actress Annie Enneking, who played Fess Elliot in NPL's latest project, "Extremely Public Displays of Privacy," said that she created her character's online persona for about a year. This included taking pictures, writing songs, and updating a fictional Facebook status.
"What I loved the most was that I had a constant outlet for my creativity," Enneking told Mashable. "I would follow my impulses. I was creating little pieces for my character. After the show closed, it felt like a little death."
The three-act "Extremely Public Displays of Privacy" began with videos of the two female protagonists meeting online for the first time on Chatroulette. For its interactive second act, audience members could download an audio file for a 45-minute guided tour in a Philadelphia park, or go for a virtual walk online on YouTube. The third act completed the play with a real-time performance in Philadelphia.
NPL's next interactive play, called "27," is based around the idea that the lives of creative individuals such as Jimi Hendrix and Kurt Cobain end around this age. The production will debut next fall.