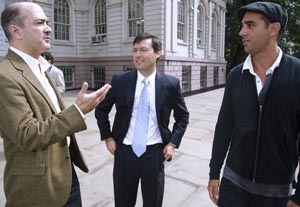 A stimulus package for actors. That's how supporters characterize New York's city and state tax credits for film and TV production. To listen to advocates, the programs have done so much good that politicians wouldn't dare do anything but expand them, for fear of crumbling the entire local economy. And evidence indicates that weakening the programs could affect New York actors and their neighbors in a less-than-positive way. Yet it appears that politicians may be on the verge of doing just that.
"We have so not a sense of what is happening up there right now," said Nancy Fox, national director of policy and strategic planning for the Screen Actors Guild, about state lawmakers in Albany. "It's a very strange time. You can't talk to them."
At issue are the fates of two tax-incentive programs largely credited with revitalizing film and television production in New York: a 5 percent rebate from the city on all below-the-line costs, and a 30 percent rebate from the state. To qualify, producers have to shoot at least 75 percent of a project within city and state limits. The Mayor's Office of Film, Theatre & Broadcasting announced July 1 that its Made in NY program had spent its full allocation of $192.5 million and that no new funds would be available to eligible film and TV projects until the state Legislature passed a pending bill to extend the program.
Even before a monthlong standoff between New York Senate Democrats and Republicans ground legislative work to a halt (the deadlock finally ended last week), the programs were in danger of being curtailed. For example, the proposed extension of the city's program would scale it back and apply a per-production cap on funds. Meanwhile, two bills affecting the state tax credit are also caught in the political Phantom Zone that is Albany.

Boomtown
Douglas C. Steiner is co-chairman of Steiner Equities Group and president of Steiner Studios in Brooklyn. His facility opened in 2004 after the creation of the Made in NY program, and it has hosted TV productions such as The Unusuals, Damages, and Flight of the Conchords.
"At that time, it was started as more or less a trial program," Steiner said. "At this point people understand it, they believe in it, and it is by far the most successful economic-development tax credit program this state has ever seen."
Steiner may have been waxing hyperbolic, but maybe not. Few people in the industry or government would deny the program's positive impact on the local economy and talent base. Since the credits went into effect, more TV series and films set in New York have been shot in New York. The city famously lured ABC's Ugly Betty away from California last year. Partly in response, California—despite its own budget woes and capital circus—passed a $100 million tax-incentive bill in February. Even though the state's budget impasse remains, the program officially began July 1 and the California Film Commission is accepting applications.
The efficacy of tax-rebate programs—more than 40 states have them—has not always been stellar. A study released earlier this month by the Massachusetts Department of Revenue shows that the state has earned only 15 cents for every $1 it has spent, a loss of more than $95 million, according to a report in the Boston Herald.
New York's record, however, has been the reverse. In a study released in January, the accounting firm Ernst & Young found that while credits cost the city and state $215 million, they generated $404 million in tax revenue and helped keep or create 19,500 jobs. According to SAG's Fox, actors have been at the forefront of those benefiting.
"We measure our employment in background days," she said. "We see at least a 30 percent increase comparing 2005 to 2007. What that means is that our members could qualify for health care. It means they could pay their rent. Most of our members don't work quite enough in the arts or in Screen Actors Guild jurisdiction to qualify for health care. So every extra day of employment means that they're that much closer to health care. It also means they're off the state health-care rolls; they're out of unemployment. We've seen an incredible increase in employment."
But observers have spotted clouds on the horizon. In February, Warner Bros. announced that the J.J. Abrams–produced Fox series Fringe, which is set in Boston but shot at Silvercup Studios in Queens, N.Y., would relocate to Vancouver, British Columbia. That news came just weeks after it was reported that while 19 pilots were shot in New York in 2008, none were scheduled to be filmed in the city this year.
The End of Days
So why are programs that have been, by all accounts, a boon to many—from studios to tax collectors to actors to caterers—suddenly foundering? As James Carville might say, "It's the economy, stupid."
Ed Lammi, executive vice president of production at Sony Pictures Television, which produces the New York–based FX series Damages and Rescue Me, said New York expanded its tax-credit programs after nearby states such as Connecticut, Massachusetts, New Jersey, and Pennsylvania began offering big tax breaks. "Hollywood goes where the money is," Lammi said. "The business is very portable. It always has been."
Lately it's been looking like the money is not in New York. Funding for the state program ran dry early this year, prompting Gov. David Paterson and the Legislature to approve another $350 million to keep it afloat. But that cash could be gone by as early as September. Hope has been pegged to a bill that would extend the program for five years at $420 million per year, but the long delay caused by the state Senate stalemate could hamper that proposal's effectiveness.
Meanwhile, the city has proposed an extension to its program that would reduce the tax credit to 4 percent, with that number shrinking annually beginning in a TV series' fourth year, until disappearing in the sixth year.
"We created and have strongly supported the film tax-credit program, and that's why—despite the city's increasing need to cut spending—we've proposed pumping an additional $48 million into the program," Katherine Oliver, head of the Mayor's Office of Film, Theatre & Broadcasting, said in a written statement. "We've suggested adding a cap and diminishing the credit over time for established TV shows, to maximize the number of productions that can participate."
Almost everyone agrees that budgetary pressures spurred by the fiscal crisis are to blame for the stagnation in the state program and the possible reduction of the city program. But those who stand to benefit directly from the programs aren't the only people pointing to the tax credits' success and clamoring for a renewed commitment to them. City Council member David Yassky says political leaders need to step up.
"There are two decision makers here: Mayor Bloomberg and Gov. Paterson," Yassky said. "There is ample support in the City Council if Mayor Bloomberg will support it, and there is ample support in the state Legislature if Gov. Paterson will support it. They are the two decision makers, and the people who work in this industry have got to make the mayor and the governor understand that these jobs are too important to let them slip away."

Economic Engines
Political leaders, industry executives, and union officials point to the impact that a failure to adequately support the tax credits will have on workers. According to Lammi, the credits are "jobs bills." Steiner hails their benefit for "working people." Sam Freed, president of SAG's New York division, said that while some may view economic relief for film and TV production as "giving money to rich people," that isn't the reality. "The fact of the matter is that film and TV production really is a boon to the middle class," he said. "It's a lot of union jobs."
Union members, particularly SAG's New York constituents, are not the only ones likely to suffer in the coming years should the tax incentives be cut or curtailed. Said Fox, "If you have a production in Queens somewhere shooting on location, money is going to be flowing into the delis and the restaurants and the dry cleaners, and that money is going to get pumped back into the economy very quickly. This is just an incredible economic engine for the state."