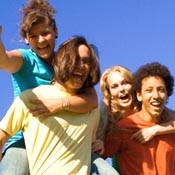 As an actor, it's crucial to stay connected to your peers in the industry. How else will you ever find that perfect photographer to take your headshot, or get inside tips on what certain casting directors are looking for, or snag advice on choosing a great agent?
But BackStage.com realizes it can still be difficult or daunting to develop those key relationships even when you know you have to: where do you look? Who do you ask? How do you know whom to talk to?
That's why we created the Message Board. The Board will make all those essential introductions for you, and no uncomfortable small talk is necessary. The Board is simply an online forum for actors to meet, connect, and stay in touch.
Every day dozens of actors come together on the Board to share tips and tricks about auditions, compare notes on the best acting teachers and coaches, discuss what makes a great headshot, and much more. The Board even has a forum for you to promote yourself and your new project, plus a place to post information about renting or finding apartments, roommates, and even transportation.
And if you're considering moving to either New York or Los Angeles to jump-start your career, you absolutely must jump-start your checking of the Message Board for help from those who have gone before you, and seen and done it all before.
At BackStage.com, we want to make it as easy as possible for you to find the information and advice you need to make it in this industry, and make some great friends and crucial connections along the way. With hundreds of posts from hundreds of other actors just like you, the BackStage.com Message Board could turn out to be the best friend you ever had in this business.