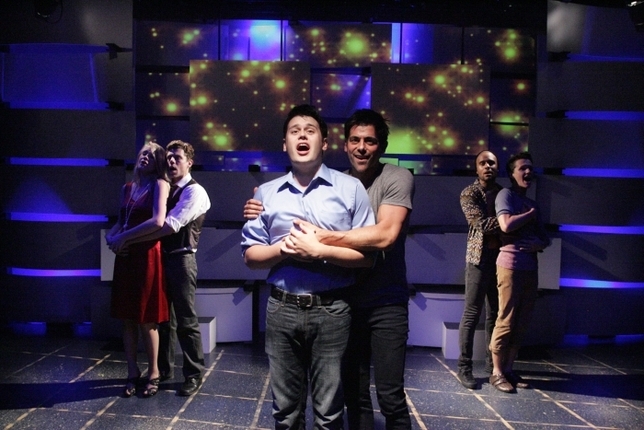 Celebration Theatre opened its 30th season last week with a world premiere musical that gets to the core of the LGBT playhouse's mission.
"Justin Love" (pictured) features handsome A-list actor Justin Rush, played by Adam Huss, who falls for the male assistant (Tyler Ledon) of his publicist just as his major action movie is about to open. Rush is faced with the dilemma of leaving his wife and outing himself, or missing out at a chance for true happiness.
It's a familiar trope in Hollywood, where for decades gay actors—especially prominent film actors—were pressured to stay in the closet lest their lifestyle go against the grain of their public personas. But with so many high-profile performers coming out in recent years, is a theater dedicated to telling the stories of the LGBT community still necessary? After all, it was just last year that Neil Patrick Harris opened the Tony Awards broadcast by singing that Broadway is "not just for gays anymore."
Michael Kricfalusi, Celebration Theatre's executive director, said its mission endures into the 21st century. He noted that many of the actors who recently came out of the closet—such as Harris or Jim Parsons of "The Big Bang Theory"—did so after establishing their careers. Moreover, he said, a closeted "movie star" has yet to emerge.
"There are still a lot of actors who are afraid to come out because they're told not to," Kricfalusi told Backstage.
He recalled that while "Justin Love" was in development, an actor pulled out of the cast because his manager warned him not to appear on Celebration's stage. "It's much easier to get straight actors on our stage than gay actors," Kricfalusi said.
And for that reason, Celebration Theatre will keep dramatizing the stories of the LGBT community, which have evolved from tales of coming out to dealing with HIV/AIDS to coping with rejection or bullying. Kricfalusi said part of Celebration's focus going forward will be on developing young LGBT writers, but actors like Ledon are also gaining valuable experience through their productions.
"It is really, really cool to do a production that allows you to make a statement," Ledon said. "To have something to say through your piece, it puts a lot into the actor's craft."
Carrie St. Louis, who plays Rush's wife, Amanda Bell, and is also a recent theater school graduate, agreed with Ledon.
"I see people weeping in the audience—it just means so much," she said. "I think ["Justin Love" has] got a great message."
That message, of course, is be true to yourself. The Backstage review of the production can be found here.
St. Louis said that working with Celebration Theatre does brand an actor, but in a good way. "If you've been a part of one of their shows, you're obviously a talented person," she said.
Meanwhile, Kricfalusi said there's still a risk for an actor to reveal he or she is gay.
"Until that day comes when actors don't have that fear [of coming out], Celebration's mission will go on," he said. "There's a lot of gay theater in town, but we provide not just the plays and musicals we put on, we provide a reference point and a home for gay and lesbian stories that people want to get out there."