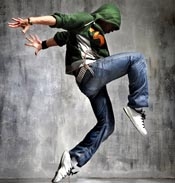 If the economic downturn is making it difficult for you to find enough dance work to make ends meet, consider teaching. It's always been one of the ways professional dancers and choreographers have supplemented their income. And now it may be more important than ever to increase your marketability by adding teaching credentials to your résumé. While most sectors of the economy are suffering enormous cutbacks, education isn't getting hit quite as hard. Even though city and state funding may be dwindling, the federal stimulus plan put forth in January includes a $150 billion investment in education.
Not only is education one of the new president's top priorities; it is also a key criterion for the awarding of grant money to dance companies. To qualify for certain grants, a troupe must be involved in bringing dance experiences into the schools or to other community-based groups. So while they may be canceling productions and curtailing tours, dance organizations are continuing -- and in many cases expanding -- their educational outreach efforts.
Even though you know how to dance and may even have experience teaching technique classes in professional studios, you'll probably need additional training in the principles and practices of dance education before you're ready to work in outreach programs. The dance experiences included in a school curriculum are quite different from the kind of instruction most of us received as aspiring professionals.
One of the most reputable places to get the kind of training you need to work as a dance educator in schools and with a wide variety of populations is the Dance Education Laboratory, part of the Harkness Dance Center at New York's 92nd Street Y. A professional development program for dance teachers, DEL offers weekend workshops, short-term intensives, and a full-year two-semester course, Foundations of Dance Education, which starts anew each November. This year's upcoming workshops and intensives include Movement and Sound Across the Disciplines (March 21–22), African Dance: From the Continent to the Classroom (May 2–3), Growing a Dancer (June 15–21), Dance Health: Minding the Body, Finding the Balance (July 6–10), Dance History: Coming Alive in the Studio (July 13–17), and Dancing in Early Childhood (July 20–24). The weekend workshops cost about $150 each, the intensives from $350 to $500, and the full-year course $750.
College Credit Available
All the DEL courses can be taken simply for personal edification. But if you're interested in earning undergraduate or graduate credit for them, arrangements can be made through SUNY Empire State College. If you're a licensed teacher in New York state, credits from the DEL courses can be applied to certification in dance and to salary differentials.
"Our courses are all very practical," says DEL director John-Mario Sevilla, a former member of Pilobolus Dance Theater and a graduate of the master's program in dance and dance education at Columbia University's Teachers College. "They include lots of hands-on experiential learning and provide very useful tools and information. And this year we're very excited about the new intensives we're offering. Our African course, for example, will take a pan-continent approach and will look at dance from many different regions of Africa. And the summer intensives in dance history and dance health will be particularly useful. You see, teachers who are working to earn certification have to take a dance content exam, and we've been told that the two areas of the test that teachers have had the most trouble with are the sections on dance history and the dance sciences -- you know, anatomy, biomechanics, dance health. Our courses will directly address what teachers need to know in those areas to be prepared to pass the exam. And of course, with Obama's big focus on early childhood, our Dancing in Early Childhood course, which we've been offering for a long time, will have a strong contemporary relevance."
Jody Gottfried Arnhold, the founder of DEL and a teacher of the full-year course, is also a graduate of Teachers College. "We started this program about 14 years ago," she says. "We were a group of very experienced, very passionate dance educators, but we all remembered that when we first started teaching, we really didn't know what to do. So the Foundations course developed to include what we wished we had known from the beginning, what we felt we needed when we began our careers. The course is really a big gift for anyone who's seriously interested in dance teaching. We all have such deep knowledge to share and, I must say, we're very generous. We want to light a fire under anyone who really wants to do this, whether they be professional dancers or teachers who have danced or had some kind of aesthetic experience and know the value of dance education for children. We want to capture those people and give them the tools they need to get started or to keep going if perhaps they've hit a wall in the profession and are looking to be recharged." For more information, call (212) 415-5551 or go to www.92y.org/del.