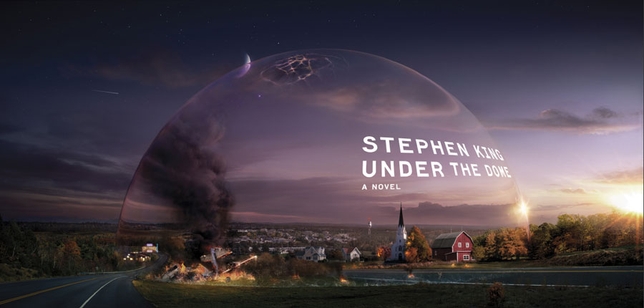 CBS has given a straight-to-series 13-episode order for "Under the Dome," based on Stephen King's novel of the same name about a small New England town whose inhabitants struggle to survive and search for answers when they are suddenly and inexplicably sealed off from the rest of the world by an enormous transparent dome. King and Steven Spielberg will executive produce the project, which was originally in development at Showtime in 2011.

"This is a great novel coming to the television screen with outstanding auspices and in-season production values to create a summer programming event," CBS Entertainment president Nina Tassler said in a statement. "We're excited to transport audiences 'Under the Dome' and into the extraordinary world that Stephen King has imagined."

ABC has ordered five additional episodes of Tim Allen's "Last Man Standing" and Reba McEntire's "Malibu Country." (Casting directors Sheila Guthrie and Suzanne Goddard-Smythe of Guthrie/Goddard Smythe Casting cast "Last Man Standing," while "Malibu Country" is cast by Debby Romano and Brett Benner of Romano/Benner Casting.) Both Friday night sitcoms have been strong in the ratings this fall; "Malibu Country" is this season's most-watched new show, according to Deadline. ABC has also ordered more episodes of new series "Nashville" and "The Neighbors," but canceled "Last Resort" and "666 Park Avenue."

The CW has canceled medical drama "Emily Owens, MD," its lowest-rated new series of the season. Production on the show's initial 13-episode order will wrap next week. The network reportedly plans to air all of the remaining completed episodes, but will not produce any more. The CW recently gave full season orders to two new dramas, "Arrow" and "Beauty and the Beast."

MTV's scripted comedy series "The Inbetweeners," based on the British series of the same name, will not be returning for a second season. "While we won't be moving forward with another season of 'The Inbetweeners,' we enjoyed working with the show's creators and such a talented, funny cast," said an MTV spokesperson.

Donald Faison ("Scrubs") will host TBS' "Who Gets the Last Laugh?," in which two comedians compete against each other to devise and execute the best pranks on unsuspecting bystanders. Andy Dick, Tom Green, D.L. Hughley, Chris Kattan, Bill Bellamy, Charlie Murphy, Cheri Oteri, and Alan Thicke are among the pranksters in the new show from "Punk'd" co-creators Jason Goldberg and Ashton Kutcher, which received a nine-episode order in May and is scheduled to premiere on TBS in the spring of 2013.