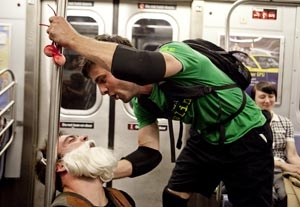 Playing Gloucester in "King Lear," Fred Jones bellows, "I shall see winged vengeance overtake such children." Paul Marino as Cornwall responds in a towering rage, "See't shalt thou never. Fellow, hold him fast. Upon these eyes of thine I'll set my foot."
Enacting an elaborate pantomime of gouging out Gloucester's eye, Marino cups in his palm a glossy white golf ball, adorned with dangling red elastic strips to simulate severed veins. He holds it up for all to see while Jones screams in anguish.
The two actors are not on a stage but in a crowded subway car traveling between Manhattan and Brooklyn. Jones is on the floor, his back propped up against a floor-to-ceiling pole, and Marino hovers over him. Some riders look puzzled; others are grinning; still others pretend nothing is happening.
Working the subterranean depths for a year, sometimes up to 20 hours a week, Marino and Jones, aka Popeye & Cloudy (the two detectives in "The French Connection"), will soon be taking their act to the subways of London, Berlin, Amsterdam, and Paris. To date they boast seven Shakespearean scenes, an Abbott and Costello bit, and some original pieces. Each actor can play either role in a scene.
On an average night they may collect several hundred dollars from appreciative riders, but money is secondary, as is the impulse to be "discovered." Indeed, busking is primarily an opportunity to act, they insist. "I've always been interested in site-specific theater as well as the blurring of the lines between reality and performance," says Jones.
Marino's interest in busking dates back several years to when he was selling his paintings on the streets of Europe while his traveling companion, a unicyclist juggler, charmed the crowds and made money for his efforts. "I was brainstorming for a novel busking act that I could do," he recalls. "The want was there, and finally so was the need. I was making money by shoveling cars out of snow."
Likewise for actor Kate Michaud, who found herself unemployed in the summer of 2010 and decided to take control of her destiny. Encouraged and inspired by street-performing musician friends, Michaud launched her own act featuring a series of monologues from such diverse sources as "The Taming of the Shrew," "Designing Women," and "Jurassic Park." Currently in "These Seven Sicknesses" at The Flea Theater, Michaud says busking in Central Park has been an emboldening and enjoyable experience.
In contrast, actor Tim Intravia admits ambivalence about performing his "living statue" routine in midtown Manhattan. An immobilized figure clad in silver (sometimes gold), Intravia will self-animate from time to time, making robotic gestures while uttering weird grunts and creaking noises. He likes giving audiences "more than just a dinner and a gin and tonic," along with being his own boss and making his own hours. But in the end it's about survival, and in the last few years his take from onlookers has dropped 25 percent, he reports.
Still, thanks to his "living statue" he's landed a manager, national TV commercials, and an award for best comedy for his show, "From Busk Till Dawn: The Life of a New York City Street Performer," which he performed at the United Solo Theatre Festival. He is now participating in Back Stage's Take 5 column.
Pride or Shame?
Though it is virtually impossible to know how many buskers are working the streets nationally, let alone internationally, some veteran performers suggest that in economic down times, competition for space, attention, and limited bucks grows stiffer. Many believe street performers proliferate in hard times and include seniors, students, hobbyists, and pan handlers along with the serious artists who may have other gigs.
"The street has also been a major venue for immigrant artists from Irving Berlin up," says puppeteer–folk singer–activist Stephen Baird, who runs Community Arts Advocates, a not-for-profit corporation that helps sustain buskers and the arts community in the Boston area. "In the '20s, 2,000 people got licenses to perform in the streets of New York."
Many European cities have a tradition of street performing—dating to the Middle Ages, when troubadours roamed the towns—and to this day boast notable busker festivals that attract hundreds of performers and tourists each year.
In the States busking does not enjoy the same history, though in periods of social upheaval artists claim the streets, says San Francisco actor Paul Baird, a train station clown and accordion player. Today New York, Boston, San Francisco, and Venice Beach, Calif., see their share of buskers.
The acts have grown more sophisticated but continue to run the gamut: opera singers, contortionists, jugglers, clowns, mimes, drummers, break dancers, and even a saw player. Consider Natalia "Saw Lady" Paruz, who taught herself to play the saw after she was hit by a car and had to give up her dancing career.
Performing in subway stations for 20 years—leading to gigs at Carnegie Hall, Madison Square Garden, and Lincoln Center—Paruz loves the acoustics and the crowds. "You have to be a people person," she says, comparing veteran performers with some newbies who busk only as a stepping stone to a more stable career. Some do it once, simply to film themselves performing in a public space. They think it's cool to have it on their résumés, she says.
Michaud views busking as a great icebreaker and promotional tool at auditions. "It makes me stand out," she says. Others find it an admission of unemployment, if not a downright stigma. Actor Brian Richardson, who with baton in hand stands on a small box conducting an imaginary orchestra, says that as much as he loves the chance to perform, he's not sure he would tell anyone in the industry about it.
Intravia suspects he has become far too identified with his silver-guy routine and blames himself for promoting it as much as he has. Now he emphasizes his straight acting gigs and may mention his street act in passing at auditions. 
Variety artist Brian Bielemeier, who has performed on streets around the globe, feels no shame. "I was born to be a street performer," he says. "I love creating something out of nothing and transforming the energy of a space. And it has allowed me to travel all over the world."
Actor Margot Carr, who has worked the New York City parks as a mime, also talks about the private party gigs, promotional tours, and festivals she has landed thanks to busking. Her one reservation is asking for money. "That makes me feel guilty," she admits.
Those Pesky Challenges
Performing in a public space includes battling extraneous noise, extreme weather conditions, and plain old exhaustion. Michaud, for example, performs for four or five hours with barely a pause between her 45-minute sets. Similarly, Intravia may stand almost motionless for hours without taking a bathroom break or a drink of water if a crowd has gathered.
Marino and Jones contend with lurching and rattling subway cars. They have no shortage of bruises and sprains, and both sport knee and elbow pads. Jones' shoulder was dislocated the night we saw him perform.
Crowd size can be challenging as the two actors storm into and through train cars. "If a car is too full, we can quickly become obnoxious," Jones says. "There's a fine line between being cool and being obnoxious."
Unlike theatergoers, subway riders are captive audiences and may not be in the mood for any show. "They have a mechanism for buskers and beggars by keeping their eyes down in their books and their headphones plugged into their ears," Marino points out. "You've got to get them to close their books, pull out their earphones, and step out of the way. When that happens, it's the tipping point and they've become your audience."
The two specialize in acting that is bold, brazen, and often hilarious, especially if the scene is high tragedy. But that's deliberate and arguably inevitable given the setting, they say. Subtlety is no virtue in a jolting, screeching subway car.
Jones feels he has nothing to lose and can therefore throw himself fully into what he is doing. Paradoxically, he is less concerned with his audience's response and more focused on his character than if he were on a stage, he says. By contrast, Marino is more aware of audience response in the subway and less concentrated on his character. For both the scenes are selected to grab attention, be entertaining, and have a dramatic arc. Something has to be revealed and concluded, adds Marino.
Michaud says her monologues must be physical, family-friendly, and ideally humorous. Standup comic Jason Schneider, whose improbable act entails selling jokes for a buck a pop, has a ready bag of routines geared to different nationalities. Many of his audiences in Central Park are tourists. "If they're from Sweden, I can talk about world news or international figures," he says. "If they're from China, they usually don't have our cultural icons, so I'm more likely to tell a universal joke, although almost anybody can get a joke about Kim Kardashian."
The Los Angeles–based guitar player and songwriter Ned Landin, who has been busking for decades, notes that technology—iPads, headphones, and myriad entertainment options—has changed audiences and, by extension, his performance. He can no longer assume he'll break through their isolation and create attentive "theatergoers." Playing a set with a beginning, middle, and end has given way to performing background music, he says.
Similarly, Baird remarks that visual stimulation is more important than ever in distracting audience members from their cell phones and iPods. He dons broad red-and-white striped overalls, a black hat with an orange flower, and a white mime face with a thick ring of black paint around his eyes that brings to mind a scary night creature.
Harassment, Thievery, and Cops
Interpersonal problems are not nearly as bad as one might expect. Squabbles between buskers vying over a lucrative spot may surface, but these are usually resolved amenably, especially among veterans who share an unwritten code of conduct. Marino and Jones have flipped coins with other performers eyeing the same subway car.
At times, someone in the crowd will make a derisive remark or try to distract a performer; stealing of money and props is not unknown, but for the most part buskers, including women who perform by themselves, feel safe. Paruz says some of the roughest-looking street types—druggies, alcoholics, and the homeless—have become her protective pals. Martina Fajkusova, a Czech-born fire spinner, who has performed with and without her boyfriend throughout the world, says she prefers busking alone: "Everyone is friendlier and more helpful."
The big stumbling blocks are the cops, who, according to all those interviewed, regularly hassle street performers without justification. Buskers say they are expressing their First Amendment rights, not blocking traffic or annoying anyone. Most of the summonses that have been issued are thrown out of court, asserts Intravia, who describes one amused judge who joked about inviting the performer to entertain at his kid's party.
Yogi Laser—aka Kenneth Greenaway—a Trinidadian-born yoga contortionist, finds nothing amusing about the hassling, insisting classism and racism play a part in the escalating police harassment he has experienced in New York City; at the time of the interview he was relocating to perform on the streets of London.
"I'm told to get a job," he says. "I've been doing this for 25 years and supporting my family on it. I entertain people and spread the love of yoga. This is how I make my living. I'm 48 years old. What am I supposed to do?"
Back Onstage
Other buskers find they have become fearless. "I'm more selective about what auditions I'll accept, and I feel free to speak up if I'm not treated well," Michaud says. Schneider notes he is now comfortable in front of all kinds of audiences and will take more risks in a club, knowing if he doesn't score he'll survive, at least emotionally.
Though Marino and Jones envision expanding their subway act to include other actors, should they find themselves performing Shakespeare or any play onstage, it will be a piece of cake compared with subway acting. "Nothing will rattle me again," says Jones.
When we leave them, he and Marino are eagerly waiting on the platform as the next train pulls in. Readying themselves, they're checking for cops and competing buskers who might board the train, assessing crowd size, and deciding impromptu what scene they'll do and who'll play which role.
"And if at the next station, everyone gets out and we're still performing, we'll finish the scene in an empty car," proclaims Marino.
Spoken like a true actor.