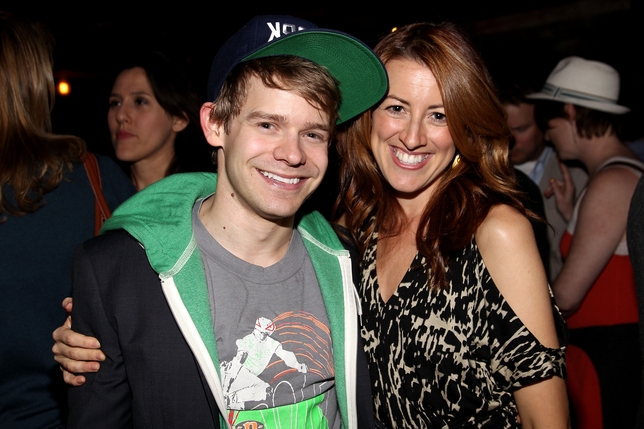 Everyone's favorite actor-centric Web series "Submissions Only" just wrapped shooting its third season, and a special preview event of the first episode will premiere at 54 Below on Friday, Aug. 2.
The end of Season 2 found the actor's anti-heroine Penny Riley finally getting a job—in an Off-Broadway musical called "Jeremy's Fort"—but now that Penny's employed, show creators Kate Wetherhead and Andrew Keenan-Bolger tell Backstage that viewers will see more of the rehearsal process versus the audition process.
"Funny things arise that wouldn't happen under normal circumstances," Keenan-Bolger says of rehearsal, adding that introducing a fight coordinator was one of his favorite parts of Season 3. "It definitely amplifies the hilarity and the drama of the situation. You see everyone's true colors in a rehearsal."
But just because an actor is employed, it's not all bells and rainbows. "A lot of times you're just sitting around learning music, and it's painstaking," says Wetherhead. "There's that, and also we always strive to convey how inconsistent this business is. One minute you are in a show and the next minute you're not. It's not all one upswing."
Well, "Submissions Only" is definitely on an upswing right now. The third season marks the first the duo has collaborated with Broadway producer Kevin McCollum ("Motown," "In the Heights," "Avenue Q"), and with his help they were able to secure more funding beyond the $60,400 they raised through a Kickstarter campaign, and are looking for a home beyond YouTube to host the show.
"It's been the first time that everyone was able to start treating it like a real job," Keenan-Bolger says of the support McCollum provided. Instead of shooting the show on a per-episode basis, the cast and crew were able to plan a 10-week shoot and shoot eight 22-minute episodes all at once. "This is truly a hobby that has turned into something sustainable, which has been my greatest dream for everything since I started making little movies."
And while shows such as "Smash" were criticized for being too insider-y, Keenan-Bolger and Wetherhead are looking to broaden the show's appeal.
"The arc of the series continues to draw from real themes in our business or real genres in our business or real archetypes," says Wetherhead.
"While it's insider, I think it's still really universal," Keenan-Bolger adds, "and I think we've cast our net a little further this season. I hope that it finds a great new home."