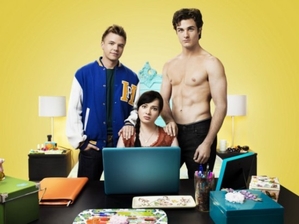 If the job moves of top network executives are an indication, scripted entertainment is making a comeback. Take MTV, which for years has focused its programing on shows like "Jersey Shore" and "Teen Mom Two." Now, the network has turned its attention to scripted development—and rewarded the executives who have spearheaded its new lineup.
After scoring hits with scripted series such as "Awkward" (pictured) and "Teen Wolf," in August the network promoted Justin Levy and Clay Spencer, its co-heads of scripted programming, to senior vice presidents, scripted series programming. And earlier in the summer MTV promoted five development executives, including Shannon Fitzgerald and Jessica Zalkind, who were given the title of senior vice president for series development. MTV's not alone in turning away from unscripted development.
Ryan Seacrest Productions, which is behind "Keeping Up with the Kardashians" and its unscripted spinoffs, has showed its intent to move into scripted programming by going on an executive hiring spree. RSP recently hired Nina Wass as an executive vice president in charge of scripted programming, Joseph Ferraro as a vice president of development, and Heather Schuster as senior vice president development. Backed by a $300 million investment from THL Partners and Bain Capital, RSP is unlikely to stop there.
Another popular broadcaster's production company also made some personnel changes. A Very Good Production, Ellen DeGeneres's company, recently hired Jeff Kleeman for its top job. Kleeman, a veteran studio executive and producer, succeeded Lauren Corrao.
Meanwhile, some networks expanded their own internal production companies.
Turner cable nets TNT and TBS moved to beef up their in-house production unit by shuffling three development executives into new roles. Lillah McCarthy, who had been their VP of original programming, was tapped to lead the networks' in-house production company, TBS Original Productions, with the title of SVP.
Moreover, TNT VP for development Brett Weitz has been promoted to SVP of scripted development for both nets. And Kathy Busby, who was in charge of comedy for TBS, will take on a new role as VP of TNT and TBS Original Productions, reporting to McCarthy.
The other cable nets expanding their development side include USA Network, which hired Reena Singh (who had been at the cable net's sister company, Universal Cable Productions (UCP)) to be its vice president of original scripted programming. She now oversees production of the network's hour-long dramas.
FX also hired a new development executive. Nicole Clemens, who spent more than a decade at International Creative Management, started as the network's SVP of series development in August.
Original Media also brought in a former agent to help beef up its scripted development
Creative Artists Agency's Jessica Matthews was hired by the company this month and given the title of vice president of scripted development. The company, which is headed by producer Charlie Corwin, also hired Patrick Moses, who will serve as vice president of current series.
Meanwhile, another executive promoted to a new position is Kevin Reilly, who was recently elevated to chairman of entertainment following his stint as Fox Broadcasting's entertainment president.
Reilly's portfolio now includes overseeing all programming, scheduling, marketing, research, digital, and business affairs at the network. Meanwhile, Peter Rice, Reilly's boss, who has served as chairman of entertainment for Fox Networks Group (FNG) since 2010, has been elevated to chairman and CEO.
These promotions were just some of changes at the top for Fox. David Haslingden, who has served as president and COO of Fox Networks Group, announced he would leave his role at the end of the year to return to Australia to "spend more time with his family."
In the features part of the Fox family, another executive was elevated following a successful spell. Twentieth Century Fox executive Steve Asbell, who shepherded the summer blockbuster "Prometheus" to theaters, was promoted to executive vice president earlier in the summer. He's now overseeing production on "The Wolverine," a sequel to "Chronicle" and a reboot of "Fantastic Four."
As some companies and networks have been hiring or promoting from within, others were letting executives go in order to bring in fresh blood.
With its ratings in the tank, NBC replaced Laura Lancaster, the network's vice president of drama programming, with Pearlena Igbokwe, a 20-year veteran of Showtime. Lancaster had been on the job for six years before the split.
But one of the biggest departures of the summer was New Regency's slip with top executive Carla Hacken.
Hacken had joined New Regency late last year from Fox 2000, a division of 20th Century Fox, where she'd risen to be executive vice president of production after a 15-year career. But after just eight months at New Regency, she was out.