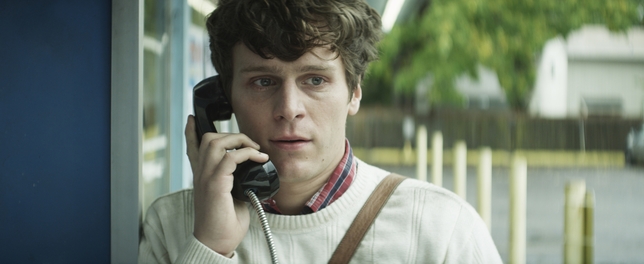 Of course we finally got good at Sundance just as our trip was ending. Yesterday found us at last making it to the free breakfast at our hotel (dry French toast, delicious, goopy oatmeal) and then interviewing Roy Abramsohn about his role in the Disneyland-set "Escape From Tomorrow" from our hotel room, before leaping onto a shuttle to meet Robert Baker at the Filmmakers Lodge on Main Street. While waiting for him, we ran into June Diane Raphael again, who reminded us to hit record for the interview.
After we left Baker, we took another shuttle to a screening of "C.O.G.," finally proving to ourselves that we can get around the festival without secretly following a large group of people and hoping they're all going to the same place we need to be at.
The rest of the day was consumed with meeting up with Josh Pais and Jonathan Groff at opposite ends of Main Street. In addition to speaking about his starring role in the David Sedaris adaptation "C.O.G.," Groff also revealed that he is where he is because of Backstage. That the interview took place under the blank gaze of a mannequin wearing a codpiece seemed only fitting.
Then, for the first (and last time) during out stay, we actually made it to a meal on Main Street all by our lonesome. Ordering sushi in Utah gave us a moment's pause, but 24 hours later and no sign of food poisoning!
The rest of the evening was filled with condo parties, from a jam-packed one for "Hammer to Nail" to a private one in a massive, three-floor condo. With an early flight looming, we managed to keep ourselves awake for a pre-dawn shuttle pickup. Wendy's was waiting for us at the Salt Lake City airport, perfect for both a late-night booze soak up and an early morning power breakfast. And then that was that. Sundance continues on for the rest of the week, but everyone will have to get along without us. As overwhelming and lonely as it can be, the people who make the movies are never less than excited about being there. You can blame the altitude, but we'd rather think that there is still unadulterated excitement among the jaded people who create movie magic.