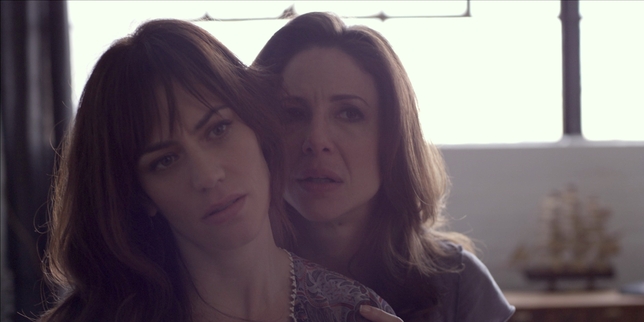 Another day at Sundance, another day that found us subsisting on granola bars and cigarettes. People must eat lunch here, but it's hard to catch them at it.
The day began with a screening of hot Sundance property "Concussion," Stacie Passon's film about a lesbian wife and mother who finds release in a secret life as a prostitute. Actually, the day began with us leaping out of a shuttle at a stop light and almost getting hit by oncoming traffic, but it was all in order to get to the screening, so we'll start with that.
Immediately after the film, we headed from the theater to Main Street to speak with Passon and stars Robin Weigert and Maggie Siff—once you've seen the movie, you'll understand how unnerving that could be. But both women were charming and articulate about the film and their much buzzed about sex scenes; something tells me they'll be answering questions about those scenes for a long time to come.
After that, we headed to the Filmmakers Lodge, where the members of the industry go to sit, relax, and sip a brown water that the servers call "coffee." After surreptitiously people watching, we met June Diane Raphael, in town with "Ass Backwards," the movie she co-wrote and co-stars in with Casey Wilson. We had a hilarious, wide-ranging interview that veered from the two pilots she's working on with Wilson for ABC to her clowning class past…all of which managed to not get recorded. Sorry June! We love you!
As she left, we had to swallow our mortification to chat with Film Independent's co-president Josh Welsh about celebrating and promoting indie films. Afterward, we intended to kill some time on Main Street with the Donna Daniels PR team at their private reception for film "Fill the Void," but ended up drinking with the gang for a few hours. That's the thing about Sundance; if you're having a good time, you should probably stay put.