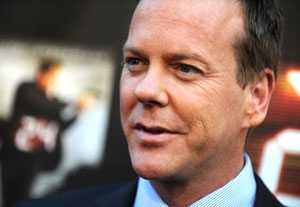 TORONTO -- Kiefer Sutherland ("24") is to head up a new actors conservatory at Norman Jewison's Canadian Film Centre in Toronto.
Sutherland, the son of Canadian acting veterans Donald Sutherland and Shirley Douglas, will chair the stage and screen acting school to launch September 21.
"I am honored to contribute to Norman Jewison's legacy by offering the CFC my passion for storytelling, for Canada and its talent," Sutherland said at the CFC barbecue during the Toronto International Film Festival.
The Canadian actors conservatory will feature performance workshops and master classes with local and foreign actors, directors, writers and producers.
The Toronto International Film Festival continues to September 19.
– Nielsen Business Media