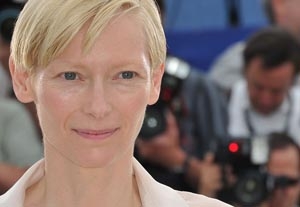 CANNES, France – Tilda Swinton plumbs the depths of grief and despair for her role as a mother whose 15-year-old son commits a school massacre. But the scariest moment making "We Need to Talk About Kevin" involved being pelted with rotten tomatoes in an unruly mob.
The film's arresting opening scene shows Swinton's character, a travel writer, in a sea of red goo and writhing bodies at the Tomatina festival in Spain. Director Lynne Ramsay had Swinton plunge into the melee, in which tens of thousands converge on the town of Bunol for a messy food fight.
The scene is vivid, exhilarating, overwhelming and frightening — rather like the film's depiction of parenthood.
"It was really, really intense," Swinton told The Associated Press at the Cannes Film Festival, where "Kevin" is an early favorite to take prizes. "It's not the kind of thing where you can say, 'We have to do it again.'
"Every time I see the images I can smell the mixture, not only rancid tomatoes and beer — and probably a fair amount of (urine) as well, because people have been standing there since 7 o'clock in the morning — but testosterone. It's just testosterone.
"The film was always going to be incomplete until we had that testosterone in it," she said.
Testosterone is a key but volatile element in a movie that explores male violence from a woman's point of view. Based on the best-selling novel by female writer Lionel Shriver, it shows Eva struggling to understand her son's crime, for which she feels responsible.
Those seeking a romantic view of motherhood should look elsewhere. In Swinton's intense performance, Eva is numb, hollowed out by grief. In flashbacks, she is angry, resentful and overwhelmed, uncomfortable from the start with her sullen, difficult son.
While critics have praised the film — the Times of London called it "earth-shattering" — its depiction of motherhood made some viewers uncomfortable.
Swinton says the film hits a nerve because it tackles a taboo — the admission that child-rearing is a rough business.
"I remember very soon after giving birth realizing that my imagination had taken on a kind of brutal capacity that it had never had before," said Swinton, the mother of teenage twins. "Pregnancy is brutal as it is, but there is something about the experience of childbirth that stretches in every sense your imaginary capacity for brutality.
"And I don't think you ever go back. There is a sort of innocence you lose. You get sort of blooded, literally. When I read the book, it spoke to that, and I was so grateful.
"I've made it my business ever since to say to expectant parents: it's going to be a nightmare. And it's going to be wonderful, and you're never going to regret it, but it's going to be a nightmare. Amazingly, very few people seem to say this."
Swinton, 50, has never been afraid of going her own way. She began her career in the 1980s in experimental films by directors like Derek Jarman and Sally Potter — who had her play a time-traveling, gender-switching aristocrat in 1992's "Orlando" — and has had a rewardingly unpredictable career in cinema.
She can do mainstream fare — and won a supporting-actress Academy Award for 2007's "Michael Clayton" — but has never abandoned her experimental roots.
She once slept in a glass case in a gallery for a week as part of an art installation. In 2009, she and a group of people pulled a 34-ton truck through the Scottish Highlands for a portable film festival, and last year she won raves for her Italian-language performance as an affluent but unfulfilled housewife in "I Am Love."
"Kevin" is the hit of the first week at Cannes, and many see Swinton as a contender for the festival's best-actress prize — and even another Oscar nomination.
In Cannes, she seems both completely at home and slightly alien, her pale, luminous skin all the more striking amid the Riviera tans.
She laughs when asked if she is excited at the thought of "Kevin" winning awards from the Cannes jury headed by Robert De Niro.
"What, whether we might win a raffle? It is a raffle. I have been on too many juries to take it any other way.
"Juries have this rather strange task of giving prizes, but that's never the most important thing. In my experience you go to see a lot of films and have fantastic conversations with people, and then there's this noxious process where you have to choose."
---
Copyright 2011 Associated Press.  All rights reserved.  This material may not be published, broadcast, rewritten, or redistributed.