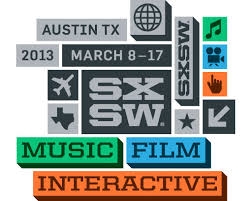 According to my unofficial research, there is not a single packet of Blowfish to be had this morning in downtown Austin. But really, what else would you expect from South by Southwest, which is already proving to be more laidback and altogether relaxed than Sundance?
The very first person I ran into after dropping off my bags was producer extraordinaire Mel Eslyn, whose upcoming film "The One I Love" recently announced casting of Elisabeth Moss, Mark Duplass, and Ted Danson. She was sitting at a table in the convention center with "Improvement Club" director Dayna Hanson and actor Peggy Piacenza waiting for the film's premiere. I chatted with all three fabulous ladies, snagged an "Improvement Club" totebag from Mel, and went off for my official badge.
"Wow, that is a professional photo," the badge guy said when he pulled up my info. "Do you want to retake it here?" I looked at him. "No, I think I'll be fine." "Are you sure? We have great lighting!" I politely declined with a heavy internal sigh. I can never end up with a badge that doesn't make me look like a member of a no-fly list, and I wasn't about to do reshoots in the middle of an exhibit hall.
In addition to the badge, I also got three additional totebags, but the woman handing them out wasn't able to tell me their street value, so I guess I'm stuck with them. Lugging them around proved especially fun when I went to Clive Bar for a Sundance alum party and the door guy asked to search them, where I ran into Backstage contributor Anna Margaret Hollyman, "Gayby" director Jonathan Lisecki, and a multitude of attractive, hard-drinking people.
After going back to my hotel to drop off the bags I'd accumulated in the last 90 minutes and gulp some cheap hotel coffee, I had dinner with an old friend at Silhouette—where the sushi portions are so small they look like garnishes—before meeting up with director Lauren Wolkstein and her entourage, who have short film "Social Butterfly" here after it premiered at Sundance. I can't remember the name of the bar we ended up at, but the drinks were delicious. I had something called a yellow jacket, which involved rubbing a lemon rind around the rim of the glass. That's one of those details that differentiates a bartender from a mixologist, I guess.