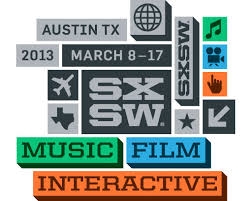 The fest may have only just started and the film portion may still have five or so days left, but can I just call it now? The best South by Southwest party was the Brigade Marketing bash at Cheer Up Charlie's last night.
Not that I didn't work for all those gin and tonics. (I like to keep malaria at bay.) First thing yesterday morning, bright and early, saw me skittering through traffic on the freeway to get to Progress Coffee for the "Loves Her Gun" shoot 'em up event in nearby Pflugerville, Texas. You can read the thrilling details here, but the short version is that shooting guns is an oddly seductive experience. And Monday is ladies day at this particular range.
Afterward, I had to dash over to a nearby Hilton (unlike the one I am staying at, I assume that employees at that Hilton aren't going around painting hotel room doors in the middle of SXSW) to speak to the cast of "Short Term 12," one of my favorite films of the fest so far, where I also had the chance to speak to "Short Term 12" producer Joshua Astrachan about one of my favorite subjects, Pat Nixon.
Immediately afterward I had to hit up yet another hotel conference room, this time at the Four Seasons for Sharni Vinson, who plays a do-or-die survivalist in the well-received thriller "You're Next," and who swears that every audition she has is the worst. Look for that interview shortly!
Later that evening, I stopped by Stephen F's Bar for a happy hour hosted by "the guilds," SAG Indie, WGA, and DGA, where I got the chance to chat with SAG Foundation's Rochelle Rose, who was witty and friendly and the perfect antidote to the boozy antics that have turned Downtown's 6th Street into a twangy Bourbon Street.
Then it was time for dinner with some friends on the East Side at Justine's (highly recommended!) before riding in the open back of a yellow…jeep-like automobile? I don't know cars. But the wind blowing Pall Mall smoke back in my face, the smell of gasoline…it was a magical Texas night that ended with every cool person you could want to meet at Cheer Up Charlies. The bar (and its front and back yards) was playing host to the Brigade party, a party for the film "Computer Chess," and the premiere party for "White Reindeer," which is why there were three Santas in varying degrees of drunkenness wandering around amidst a scattering of candy canes.
Among those in attendance were "Safety Not Guaranteed" co-producer Lacey Leavitt, the fabulous and funny Lindsay Burdge, and "White Reindeer" producer and actor Melodie Sisk. I ended up talking to Austinite Erin Randall for easily half an hour about "RuPaul's Drag Race" and what this season means for the future of drag when all of the contestants save one don't know who Little Edie Beale was. This of course necessitated me doing a Little Edie Beale impression for the rest of the night, and for that I'm sorry, Mother darling.