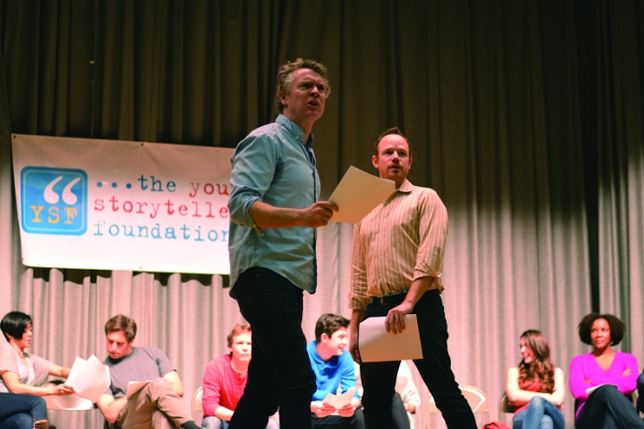 Watching three actors contort their bodies to form the different pieces of a shattered glass bottle that talks isn't a common occurrence. Neither is Campbell Scott ("The Amazing Spider-Man") spinning around stage acting like a tornado, or Mateus Ward ("Hostages") searching the galaxy for his stolen, golden fashion show fabric before discovering stars are better anyway, dahling.
Where could all this—plus stories about an evil robot, a snail wizard, a "thunder gun" that induces fits of laughter when you're in its crosshairs, and more—happen? An elementary school in Hell's Kitchen.
Who else but fifth graders would have the gall to cast Tate Donovan as a "pretend cowboy" on a quest to earn his high school diploma, all part of the Young Storytellers Foundation?
This fall, YSF, a Los Angeles–based organization that's slowly but surely taking root in New York City, brought mentors to two Manhattan schools and over the course of 10 weeks helped a select group of children write original scripts. The grand finale was casting professional actors and watching their work performed onstage at The Big Show.
"Auditioning and begging shamelessly for a role is always difficult for actors, but [doing it] for a 10-year-old? It's wonderfully humbling," said Donovan. "Acting in a Big Show is always a blast."
But before the auditioning and casting process comes the work of creating a compelling story. Mentors served as the guide, the editor, the bookkeeper, and the support to bring even the wildest stories to spectacular fruition.
"As an actor it's not often you get to play a crazy superhero, an arrogant police officer, a talking fish, a wacky fashion designer, and a fire-breathing dragon all in one afternoon!" said Ward about his various roles. Not to mention actors are also the narrators, set, sound effects, and the comedians for a crowd of fifth-graders.
"Actors are practiced at storytelling, as well as being open and saying 'yes,' no matter what comes at them," said YSF mentor Kathleen McElfresh. "I felt I could offer my student some guidance if he needed it; he rarely did but mostly [I was] listening, and saying yes to his fabulous imagination."
In the face of the shrinking "luxury" of arts in public school budgets, Young Storytellers aims to expand within New York City, continuing to give more students access to arts programs with the help of volunteer mentors and actors.
"Our desire to expand into more schools, and other schools' interest in having us, is extraordinary," said head mentor Matt Humphreys. "Something that has been wonderful about this semester is that we are expanding that [school] base." With that growth comes more opportunity to nurture New York's young writers.
"At the end of the day," Humphreys said, "as long as those student writers feel the magic that comes from creating something that is entirely theirs, we believe we are accomplishing our goal."