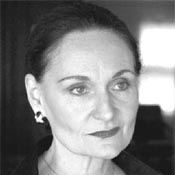 New Attitudes, Old Projects
Beth Grant, Los Angeles
Passion Play
My 16-year-old daughter, Mary, a self-described musical theatre geek, is in the kitchen, dancing and singing wildly to Godspell. Mary is just under 6 feet tall and in 10th grade. Alas and alack, she wants to be an actor like her mom and dad. I have mixed emotions. We went to the closing night of Wicked at the Pantages. It was Mary's 10th time seeing the show as a paying audience member, but last year she got a job ushering so she could study the performances. It is her dream to play Elphaba. She has my strong angular features, a natural four-octave range, and huge passion. That's what I need, that's what I'm looking to rekindle this year: passion.
How do we keep the passion going? I'm lucky in that I almost always have passion in the moment of the work. Even the work I'm doing on a small part in an animated feature right now is thrilling. But let's face it: Most of our time is spent not working. Being in a class gives me support from the group, as well as specific feedback. My teacher, Milton Katselas, recently passed away, and I've been reading his book, published after 50 years of teaching, called Acting Class. It is simply and brilliantly written and is reminding me of what I know and what I still need to learn. I've also been enjoying a sweet little book called Movie Speak, by producer-director-actor–Oscar winner Tony Bill. It's a collection of all the insider phrases and nicknames we use on the set, along with his personal observations and experiences. It's fun and comprehensive.
To stay busy and to express myself, I am rewriting a screenplay and working with several other writers on theirs. I find that "getting in the flow" is the same whether it's writing or acting or, for that matter, cleaning my room. It's about getting me out of the way and allowing myself to be a channel.
President Obama -- excuse me, I must write that again -- President Obama certainly inspired me to service in his inaugural speech. And acting is nothing but being of service. I will tell you one of my secret techniques for working on material: I bless the writers, the director, the producers, and the studio, even my competition. I pray that I can help them, even if it means showing them how not to do the role. No wonder I've played so many religious fanatics. But this is a practical technique. If I approach the work seeking to understand what I can bring to the world of the play and to make it a work of art, I get my ego out of the way and have much more fun. I'm more relaxed, and I always have unexpected exciting results.
Okay. My passion is back. I just reminded myself of what works for me, and it is always available to any one of us. Take action and do something for someone else. I send you love.
Leon Acord, Los Angeles
'Remains' of the Day
Almost every film actor has at least one horror movie on his or her résumé. I'm no exception. My entry in the indie slasher genre is a feature I shot in 2001 in Marin County, Calif. -- initially titled Mortified, then Mortuary, then finally Final Remains -- in which I landed top billing as a mortician suspected of multiple murders. Imagine my surprise when director Shawn Hazelaur told me that after seven years and three titles, Final Remains would be released domestically on DVD in January.
I shot the film while appearing in a play in San Francisco. I'd shoot from 10 a.m. until early evening, drive to the city and perform the play, then zip back and shoot until early morning -- 20-hour days for two glorious weeks. Being a longtime horror film fan, I loved shooting this movie. I did so many interesting things: drove a hearse; stabbed, strangled, and shot people; clobbered and wrestled with cops; hid in a closed coffin; fought an attack cat and an exploding fire extinguisher; learned more about embalming than I ever wanted to know; and killed scores of innocents -- all while maintaining the audience's sympathy. Say what you will about the genre, it's never boring.
I even got to write a scene. While we were shooting, I mentioned to Shawn that, while the characters talk about how clever and manipulative my character, Henry Parks, is, we never actually see Henry in action. He immediately said, "Write a scene where we do." So I did, a scene in which Henry completely charms the suspicious sheriff. Shawn shot the scene pretty much as written. How many directors do that? I know a straight-to-DVD feature is not a big deal to many actors, but I'm very grateful for this minor accomplishment. Speaking of accomplishments, Carved in Stone, the show I'm co-producing and in which I'll play Quentin Crisp, is moving forward, despite the gloomy economy. Jeffrey Hartgraves' afterlife comedy opens June 5 at Theatre Asylum in Hollywood.
We found an angel of sorts in Asylum's Matthew Quinn -- one of the nicest guys on Theatre Row -- who is co-producing and bending over backward to get this show on the boards. I'm grateful he was in San Francisco during the show's initial smash run and knows its value. We have a wonderful cast that includes Curt Bonnem as Tennessee Williams, Jesse Merlin as Oscar Wilde, Kevin Remington as Truman Capote, and Levi Damione as our "male ingénue." And director John Pabros-Clark is already hard at work on design, blocking, and a million other ideas. We're planning a backers audition for March; I'll have lots more to tell you next month.
Check www.carvedinstonetheplay.com or www.leonacord.com.
Last but not least, I've had five auditions and two callbacks for stage projects but no commercial or theatrical. And I scrambled to catch the last few films before mailing my SAG Awards ballot. While I'm sorry Leonardo DiCaprio (Revolutionary Road) and James Franco (Milk) were overlooked, I guess there were too many terrific performances in 2008 to include them all.
Meagan Flynn, Kansas City, Mo.
Fearless
One of the things I'm doing this month is teaching a children's acting class with an Alice in Wonderland theme. I waded in determined to be this great teacher who was going to teach those 9- and 10-year-olds everything I could in 10 weeks. But these amazing kids are forcing me to relearn an acting lesson I'd forgotten lately: Be fearless! My kids have no fear when it comes to performing any activity, scene, monologue, anything. You ask it of them and they throw themselves at it 100 percent. They are absolutely unafraid of being judged or of messing up.
Following my kids' lead, I threw aside all my fears and doubts and decided this was the month I was going to produce and write my own Web series. So I am now a co-writer and co-producer of The unReal Housewives of Kansas City. Think The Real Housewives of Atlanta with a Midwest twist. We just wrapped on the first episode; you can learn more at www.unrealhousewivesofkc.com. The first episode will be up as soon as possible, and we're getting ready to shoot the second. I think fear of being a terrible writer has been holding me back for a long time, but I'm accepting that there's a learning curve, and if I want to get ahead in this business, I'm going to have to make things happen. I will improve with each thing I do.
Following my fearless theme, I also decided to bow out of a project in January. There have been times I've been scared to quit a job, even if I knew it was a disaster, for risk of alienating a certain director, writer, etc. This project was headed in such a bad direction that not only was it not career-beneficial but it was possibly career-damaging in a small market like this. I handled the situation as best I could and hope there are no hard feelings. As of now, the entire production has been suspended indefinitely, so my instincts were right.
I auditioned for a small part in a movie filming in Des Moines, Iowa, and I made the callbacks for the new George Clooney flick that will be shooting in St. Louis. The director was super-nice and really fun to read for. I also had the opportunity to work on a modeling shoot with several local photographers. I'm not a model at all other than commercial print stuff, so it was fun trying to channel my inner Tyra Banks. The shots will soon be up at my website, www.meaganflynn.com. I also participated in a table read for an amazing new feature and am in preproduction for another Web series. And last but not least, my Sonic ad is continuing its run in February issues of magazines such asWomen's Health and Rachael Ray. Check out me and my chicken wrap. So as I go forth again this month, I vow to continue to be as fearless as my students, because it seems to be working.
Victor Joel Ortiz, New York City
Friends Today, Friends Tomorrow
I like to have as many things going on as possible, because I understand how I work: If I have a lot to do, I get up early and get stuff done. If not, I sleep all day. The first thing I'm working on is my class with Terry Schreiber. I just graduated from his two-year Advanced Scene Study program, and I'm currently rehearsing with three different partners on three scenes: Miss Julie by August Strindberg, The Sea Horse by Edward J. Moore, and The Bear by Anton Chekhov. Rehearsals are where I learn the most, and I always treat them with the utmost respect. I know that if I consistently sharpen myself, when the right opportunity comes I will be prepared. Knowing how to rehearse and work on your own without a director is the goal.
Whenever I'm working on a play, I try to contact the playwright to get his or her guidance. Most of the time I get no response, but in the case of The Sea Horse, I was fortunate enough -- along with my scene partner, Marilyn Mineo -- to get in touch with Moore. He was gracious enough to spend about two hours on the phone with us, talking not only about his play but also the experience of being an actor in New York. His insight helped me get a richer perspective on the text, and in the end I made a friend in him.
I formed the Understudies Theater Company last summer with Marie Weiss to get ourselves on stage. The first project we did, a showcase, was a huge success. The idea came to me from witnessing the amazing work in my class. I thought if we were to just take the same scenes we do in class, rent a theatre, and invite casting directors and agents, we might get work from what we were already doing anyway. I am currently producing another showcase and hope to have it up by April. I invited casting director Bob Lambert from All My Children -- he attended the last one -- and he called me back the same week to give me an under-five. I haven't filmed it yet; the episode should air Feb. 16.
Also this week, I was fortunate enough to get a call from a professor at NYU who works with student directors. He invited me to take part in a "sight and sound studio blocking exercise." I'm excited about it because I feel that working with the best people available is a great way to sharpen myself and develop career-long relationships. These days, graduate filmmakers from NYU and Columbia, writers at New Dramatists, and the best actors in my classes are the people I seek out. Tomorrow, it will be Mike Nichols, Darren Aronofsky, and Jack Nicholson.
Julian Miller, Philadelphia
Musical Moments
This month is already off to a great start. Every once in a while, between the coachings, classes, coffees, and callbacks, I get reminded in a very visceral way of why I act. A few weeks ago my phone rang. It was my friend Dan Kazemi. For those of you who don't know his name, I promise you will know it soon. For as long as I've known Dan, which is a little over a year now, he's been working on composing a new musical. After exchanging New Year's well-wishes and catching up, Dan asked me if I would be able to lend my voice to a reading of the show. I said yes, we sorted out the schedule, and before I knew it I was sitting at the first rehearsal.
When the music started to play, I was blown away. It was simply amazing. For a moment I felt connected to the experience that the original cast of Rent must have had when they realized they were in the presence of greatness. Thus began my love affair with The Tapioca Miracle. (Feel free to Google. I'll wait.) The story and the music lit a fire in me, and the same was true for the amazing talented cast, which was filled with Philly favorites as well as some amazing up-and-comers. As I looked around, I was spiritually fed and simultaneously learned great lessons about how to approach new material. I still tend to approach things from my head rather than my heart, and ultimately I know this works against me when it comes to staying in the moment. So
I'm getting ready to start up another project that's going to take me away from home for about three months. While I'm always excited to work, I'm really still struggling to find the time to work on the skills that need development. I'm looking for a Suzuki studio. I learned some Suzuki vocabulary and exercises a long time ago, but I don't think I was able to really surrender myself to the experience the way I can now. I'm also looking to expand my toolbox as it relates to other acting techniques. I find that if I'm working on a straight dramatic play, I feel very at home. The same is true when I'm singing in a musical. But I feel like I need something to bridge the space between, so I'm going to try Viewpoints. I need much-less-intellectual ways to define and navigate my environment.
I have kept my word about experimenting more with film and TV. More on that next month. Lastly, I'm thinking about moving from a class environment to a private coach for acting. The last few classes I've been in have been great, but I haven't been able to learn as much as I'd like to from watching others, simply because their skill levels have been so unbalanced. I'll be having my first coaching in the very near future. Better brush up on my monologues!