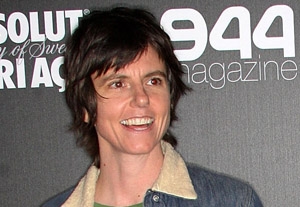 TV audiences likely know her best as Officer Tig, the lesbian lawwoman who made Sarah Silverman question her own sexual identity on the Comedy Central hit "
The Sarah Silverman Program.
" But Tig Notaro has been making a name for herself as a standup comic since moving to Los Angeles 11 years ago. Her dry, easygoing delivery, which Silverman has compared to Bob Newhart's, masks a surprisingly wicked wit. "I've been told I'm the quickest slowest comedian you'll ever see, because my delivery is slow," Notaro notes. "But if I have to come up with something, I'm rarely at a loss." In addition to touring the country with her standup and recurring on Silverman's program, Notaro also hosts the show "Tig and Friends" at L.A.'s Largo at the Coronet Theatre. The next show is June 1 and features the cast of the Starz series "Party Down." The show is a mix of offbeat variety—you might find Nick Offerman ("Parks and Recreation") singing a song or Silverman reciting a haiku—and audience interaction. Or as Notaro puts it, "I grab a microphone and go Phil Donahue the crowd."
On Breaking In
Notaro knew early on she wanted to be a standup comic but had no idea how to become one. She spent her early years in Mississippi before moving to a small town in Texas; neither location offered much in the way of launching a comedy career. "Everybody seemed to just get married, go to college, have kids, get jobs," she says. "And something in my soul would ache. It didn't seem right. I played music, and that seemed more realistic and tangible because I could just do that in my room. But standup, you're just talking to yourself—unless you're in front of an audience, and I didn't understand how to make that leap."
Still, she was always writing bits in her head, and when she moved with friends to Los Angeles, she realized there were countless places to perform comedy: "For two weeks straight, I went to every show I could see. And instead of it being intimidating, I was more like, 'Oh. I can definitely do this!' I started two weeks after I got here, and I've been absolutely obsessed since."

Killing and Bombing
Asked if she was good right off the bat, Notaro replies, "I wouldn't say I was good, but I did well. I think it was a fluke. Then I got such an ego about it; I was like, 'Wow, I guess my career's really taking off!' So I went and competed in a standup competition and not only bombed but ran off stage." Notaro had learned about the addictive hit-or-miss nature of standup, and she was addicted: "It's almost like an abusive relationship: It was good that one time; I can make it good again!"
But the worst experience onstage was four years into her career at a festival in Ireland. "The promoter took a chance on bringing me to this huge festival that big names were a part of," she recalls. "The week went well until the second-to-the-last night. I went onstage at midnight and got heckled within 30 seconds, and the entire pub was yelling at me to shut up, that I wasn't funny, that I was ugly—just horrible. I wanted to cry, but at the same time all I could see was my check for $3,000 that I didn't want to lose, because I had never been paid that much. So I stayed onstage for the full half hour and just got annihilated."
At the time, Notaro was up for her own
Comedy Central
special, so she worried word would get back to the powers that be and she would lose her shot. But the experience taught her two valuable lessons. "It made me so much stronger because I couldn't wait to get back onstage in L.A.," she reveals. "And at any moment of weakness in my set I just felt like, 'This is nothing compared to what I just went through!' " She ended up getting the Comedy Central special. Notes Notaro, "The experience was also pivotal in that it made me realize that no one thing is going to make or break my career."
Becoming an Actor
Notaro has booked the majority of her acting jobs through friends. Fellow comic Zach Galifianakis cast her on his partially improvised Comedy Central program "Dog Bites Man." And Silverman wrote the part of Officer Tig with Notaro in mind, obviously. "Sarah and I met years ago, and she came up after the show and was so complimentary," Notaro recalls. "The week following, we were both at the Improv in L.A., and she came up to me and said, 'You're so funny; can I get your number? You want to get lunch? You want to be friends?' I walked away thinking how great it was but that I would never hear from her. Then she called me immediately, and we've been close friends ever since."
Her first day on set, Notaro was "doing my version of acting"—which basically consisted of trying to behave like a cop. "Sarah said, 'No no no. You're on this show because of who you are. First and foremost, you're Tig. Second, you're a cop. So in any situation, just respond how you would as my friend.' "
Similarly, Notaro's role on last year's short-lived ABC sitcom "In the Motherhood" came to her through the recommendation of co-star Cheryl Hines. "I've auditioned, but most everything I've gotten has been through friends," Notaro says. "One exception is I auditioned on tape to play Joan Jett's mom in 'The Runaways.' I got the part, but I got cut out."
Gender Rules
Asked if she found breaking into standup more difficult as a woman, Notaro responds, "I never have thought about that aspect. I just thought in terms of being a comedian." She cites as an example an interview she read years earlier with the Pretenders' Chrissie Hynde: "She said, 'I don't want to be thought of as the greatest female singer or greatest female guitar player. I just want to be the greatest person at what I do.' "
For more information on tour dates and upcoming Largo shows, go to
www.tignotaro.com
.
Outtakes
"Tig" was a nickname her brother gave her when he was young; it has no special significance other than "it just means my brother couldn't talk yet"
Lists Maria Bamford and Jon Dore as two of her favorite current standup comics: "Also, Sarah and Zach continue to inspire and excite me."
Silverman is interested in producing Notaro's Largo show for television. "Again, it was something she mentioned, and I was like, 'Yeah, sure,' " says Notaro. "But then she told me she was serious and really believed in it."