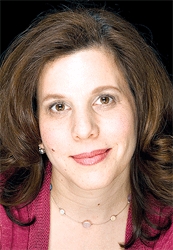 Open calls are not a waste of time, contrary to the widely-held belief among actors, insists New York-based casting director Stephanie Klapper. "That's hearsay," she says, and she's been in the business long enough--15 years--to know. "Open calls are important, and it's unfortunate that fewer and fewer actors are showing up for them. They may be a waste of time for any one project, but there are many productions we're working on." So, although an actor may not get cast in the show he or she is auditioning for, it's a chance to make an impression that could lead to future work.
Born in New York City and educated at the State University of New York, Klapper--who casts for Broadway, Off-Broadway, regional theatre, television, and film--says there's another bit of received wisdom she'd like to abolish: the need for actors to do an annual mass mailing of headshots and résumés to casting directors. Instead she advocates cutting back on the mailings and beefing up the research: Know to whom you're writing and why.
"If you're writing to a casting director, be familiar with what it is he's casting or has cast," Klapper says. "Write to those casting directors whose projects interest you, and be able to say why they interest you and why you'd be of interest to the casting director. I'd recommend writing to no more than five casting directors at any one time. Also, make sure your spelling is correct, especially their names. Don't write, 'Dear Casting....'"
Preparation, courtesy, and common sense are not new ideas, but what is new, Klapper says, is the increasing need for actors to strategize, self-promote, and market themselves. "The volume of actors is three times larger than when I started out," she says. "And now so much casting is star-driven, even in independent films. Actors are up against stars for roles that at one time stars would not have gone for or even been considered for"--such as work in commercials, voiceovers, and animated films. "Actors today have to be savvy. They're aware of their strengths and promote them. They network. They write letters."
What Klapper originally wanted to do was direct--and she tried it for six years, along with stage-managing, assisting producers, and casting. She currently casts for the nonprofit Off-Broadway theatre Primary Stages, among other companies, yet she has ambivalence about careerism among actors. "Before, it was about the art," she says. "Now it's about commerce. It's not about artistic integrity but rather 'Will this role get me to the next step?' It's good if actors can make a living at this, but I miss the creativity." She isn't just talking about casting, however: "I also miss the creative vision of one producer who makes the decision instead of corporate decisions without creative vision. We've all been focus-grouped to death."
Thanks to the increased competition for roles, actors are better-trained today, Klapper reports: "There is more of an emphasis on graduate school training, and I think that's good. I like to see actors continuing to take classes even after they've graduated. That impresses me on a résumé. I also like actors who have good speech and good voices."
In addition, she appreciates actors who are well-rounded--who read and travel and can speak on many topics. She especially likes those who know what's happening on the theatre scene: "This is really important for the new kids who come to New York. I know buying tickets is expensive. But tickets are available at low prices for standing room only, and there's always the possibility of ushering." Being culturally knowledgeable is a good career move, says Klapper, and in a young actor it impresses her.
When it comes to finding actors, agent submissions and personal recommendations head her list of resources, as they do for most CDs. But Klapper insists she also attends workshops and showcases, and that actors should do them to hone their craft, to network, and to gamble on the chance that something good may come of them. She'll bring actors in to audition if she's sufficiently impressed by their work in a showcase—though she urges them to be "selective," since not all showcases are equal in quality.
Although Klapper says she wouldn't typically cast a project based on actors' websites, she does look at them, and for one actor it paid off: "The director was in one state, the producer in another, and I was somewhere else. I found the actor on his website, told the others to look at it, they did, and we all agreed he was the best choice."
Technology has changed the casting landscape enormously, Klapper says, particularly in terms of speed. If an actor can't audition in person, a videotape or DVD can be sent instead. Sides are often available online, and now "we find that many agents and some actors can only be contacted by email. All actors are now walking around with their cell phones hooked to their pants." It's essential for actors to be reachable at all times, she says, but the phone-on-the-belt look can be distracting "if they're auditioning for a period piece."
Klapper's longevity places her in a position to note the many changes affecting casting across the industry. Her recent New York stage credits include Terrence McNally's Dedication or The Stuff of Dreams and Charles Grodin's The Right Kind of People (both for Primary Stages), Indoor/Outdoor (DR2 Theatre), Bulrusher (Urban Stages), and Heddatron (Les Freres Corbusier). She previously cast Broadway's It Ain't Nothin' But the Blues, the revival of Bells Are Ringing, and the Pulitzer Prize–winning Dinner With Friends. Regionally, she has cast for Long Wharf Theatre, the Alley Theatre, the Coconut Grove Playhouse, Round House Theatre, the Virginia Stage Company, and the 2005-06 seasons of the Delaware Theatre Company, Capital Repertory Theatre, and New Theatre in Coral Gables, Fla. Among the independent features she has cast are The Feast of the Goat (with Isabella Rossellini), 4-8-94: The Day Kurt Cobain Died, and the new film Scaring the Fish.
There was a time in the not-too-distant past, Klapper says, when the actor most likely to win the lead role had conventional good looks. And "years ago all the ladies had to be blond." Then came the trend toward "real people" casting; now "there is more ethnic and racial diversity," she says. "It's a huge change, but at the same time there's a lack of quirkiness that we'd occasionally see in the past. Many actors, regardless of ethnicity, are very perfect. They have perfect bodies and they've stopped aging. I'm bothered by the fact that everyone is made to look youthful. Their history has been erased. It's sad. There is a premium on youth, though not so much in theatre. Personally, I like actors to look like themselves. Cosmetic surgery is such a risk."
Despite the industry's rapid evolution, one thing that hasn't changed is the role of the casting director. "We help the producers realize what they want," Klapper says. At least, most of the time. One of her most challenging projects, she says, was the ill-fated 2001 Broadway revival of Bells Are Ringing, with Faith Prince. "It took us over a year and a half" to cast, she says. "Everyone had a dream, but these were not the same dreams... [But] all projects are challenging. In the beginning, they're all a blank slate."