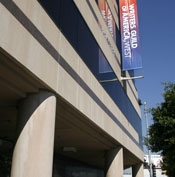 By Gary Gentile
A powerful Hollywood Teamsters branch has told its 4,500 members they can honor picket lines if TV and film writers strike this week.
Teamsters Local 399 advised its members in a Web posting late Monday that as a union, it has a legal obligation to honor its contracts with producers.
But the local, which represents truck drivers, casting directors and location managers, said the clause does not apply to individuals, who are protected by federal law from employee retribution should they decide to honor picket lines.
"As for me as an individual, I will not cross any picket line whether it is sanctioned or not because I firmly believe that Teamsters do not cross picket lines," union local secretary-treasurer Leo Reed wrote on the Web site.
Negotiators for the 12,000-member Writers Guild of America and the group representing producers resumed their contentious negotiations Tuesday in the presence of a federal mediator, who was called in to break a stalemate before the current pact expires at midnight Wednesday.
A key issue involves payments for programming offered on DVDs, cell phones and other platforms.
The Alliance of Motion Picture and Television Producers, which represents networks and studios, sent a letter late Monday to craft unions representing electricians, drivers and other trades, reminding them of the "no strike" clauses in their contracts.
"We expect each union to comply with this no strike obligation and order your members to work," alliance president J. Nicholas Counter wrote.
A possible strike was not expected to have an immediate effect on TV schedule or film production because most shows have enough scripts in hand to get through several months.
But scripts would start to run out in January or February, possibly prompting networks to turn to reality shows, news programs and reruns to fill the airwaves.
---
Copyright 2007 Associated Press. All rights reserved. This material may not be published, broadcast, rewritten, or redistributed.