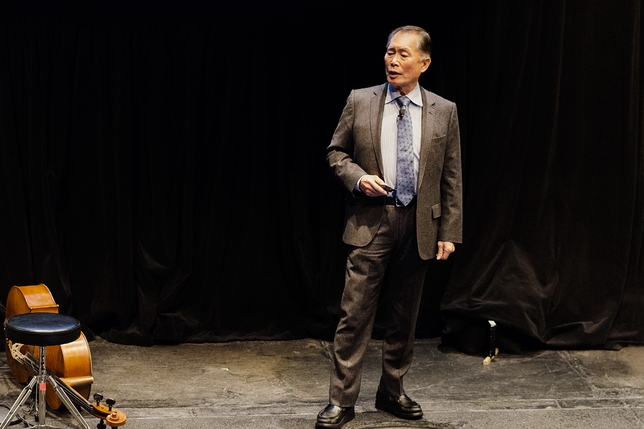 Thomas Schumacher would like you to embrace that sippy cup. You know that clinking of ice cubes you hear in the audience while you're performing your heart out onstage? Yeah, that's the sound of progress.
Schumacher, the president of Disney Theatrical Group (and an advocate for audience members taking beverages to their seats), spoke Jan. 28 at TEDxBroadway and challenged an audience of artists and influencers to welcome new demographics to the theater. But how does Broadway gain new audiences? The second annual TEDx event, which took place at New World Stages, challenged its speakers and attendees to consider the question, "What is the best Broadway can be?"
From Erin Hoover, the vice president of design for Westin and Sheraton Hotels, discussing hospitality to Randi Zuckerberg (yes, that Zuckerberg), CEO of Zuckerberg Media, advocating for social media to Seth Pinksy, president of NYC's Economic Development Corporation, presenting the financial benefits, everyone had a different answer.
"There's only one reason for you to be on Broadway," said Terry Teachout, drama critic for The Wall Street Journal, citing money and acclaim as false hopes for anyone, "and that's to have fun.… The best way to do something fun is to do something that has not been done before."
Something that had never been onstage before is the story of the Japanese-American internment, which George Takei changed with the musical "Allegiance." The show opened at San Diego's Old Globe in 2012, and the "Star Trek" star aims to take it to Broadway.
"I love Broadway because it embraces a million stories of the human experience," he said before opening up about how his family spent four years incarcerated in the camps when he was a child. He then explained how he grew his followers to 3.4 million on Facebook by starting out with his core fan base of sci-fi geeks and gradually—with the help of a few cat photos—opened the discussion to the internment. This outreach led to breaking every attendance record in the history of the Old Globe with "Allegiance."
Adam Thurman, director of marketing and communications for Chicago's Court Theatre, challenged marketers to engage the "people who will never come" to the theater. David Sabel, head of digital media for the National Theatre of Great Britain, provided an example of how this might work with National Theater Live, which broadcasts productions to movie theaters around the world.
But the best Broadway can be really lies in its future. More children are attending Broadway shows than ever, and the day's only returning speaker from the previous year, Vincent Gassetto, principal of M.S. 343, a middle school in the South Bronx, shared how introducing his students to Broadway had a positive impact on them and the business. For Schumacher, who reflected on his childhood passion for the stage, he saw what theater was really about when he traveled to Atlanta for the Junior Theater Festival, where the kids were "enjoying the fellowship of other people who were picked last for dodgeball."
You just have to tolerate the sippy cups and some chair kicking to get there.