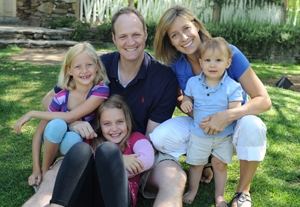 No actor is an island. Behind every great thespian lies a support system of oft-harried individuals, each working hard to provide artistic and professional guidance.
As you gain success in this business, your team will evolve and grow. Just remember that its final makeup is always up to you.
When Blake Robbins moved to Los Angeles six years ago, assembling his team was of utmost importance to him. The actor had built a solid résumé in New York, ranging from Broadway to the TV series "Oz," and he was determined to hit the ground running. "When 'Oz' was coming to a close, it began to become a no-brainer that I needed to go to L.A.," he says. "My agents and managers in New York were saying, 'If you want to do this, this is the time.' "
Robbins already had L.A. contacts thanks to his East Coast representation. Part of his overall strategy was crafting a full career in New York before even attempting the big move. "When all my friends were leaving New York and heading to L.A. with very little, other than they just wanted to change it up, I persevered in New York," he says. "I felt like I was going to make something happen in New York before I considered what else I was going to do with my career. I think that if you're even in a secondary market to New York, like Chicago or Boston, you must persevere until you know you're the top, before you come to L.A."
Robbins met his first official L.A. team member, commercial agent Pam Sparks of SBV Talent, thanks to his New York contacts. "When I met him," Sparks recalls, "he was focused; he had just come off a whole bunch of good theatrical stuff in New York. But the main thing was, he was committed; he was serious about his career."
Theatrical representation came next. Robbins had switched coasts with that element already in place, but by the time he got to L.A., he was ready for a change. He met and signed with Defining Artists' Kim Dorr-Tilley after a showcase, and eventually Robbins added a manager, Andrew Edwards, now of Global Creative, who oversees the overall scope of his career. Edwards was an assistant when he signed Robbins, but he was willing to work hard to make the actor's career take flight. "I knew he was a great actor, and I would call as many people as I could who were willing to listen," says Edwards. "I've always been passionate towards him, and he's always been loyal to me."
In addition to maintaining close contact with regard to scheduling, all of Robbins' representation works in concert to make sure his career progresses. "I have both a manager and agents to spread out my access to other people in the business," Robbins says. "Their jobs do overlap quite a bit, but primarily the manager's focus is on the big picture, while the agents' focus is on the small picture. Both are critically important."
Dorr-Tilley explains that she and Edwards have plenty of discussions about the potential work coming the actor's way: "Usually we're on the same page, and if there's anything to be discussed or debated, we'll do that between Andrew and I, and then call Blake so we can say, 'We're coming to you with whatever it might be, and we're in agreement.' "
All of Robbins' reps note that the final decision is up to him. That said, the actor always takes their guidance into consideration. For instance, he was unsure about taking a part in the indie film "Rubber," but Edwards convinced him it was the right move. Says Robbins, "Through his conversations and who he knew who was working on it and how they were working on it, he said, 'I think you should take a chance on this.' And that movie ended up in Cannes. I trusted [Andrew's] input. I know he gets me."
When it comes to pursuing opportunities, all three reps emphasize specificity. Dorr-Tilley likens her approach to that of a "sharpshooter": She doesn't go after just any part; she goes after parts that are right for Robbins at this stage in his career. Though he's not a household name just yet, his star is certainly on the rise, thanks to recurring gigs on such series as "FlashForward." "There are a number of casting offices that know him and respond to him and either are going to say, 'Yeah, he's perfect' or 'No, it's not him' or 'We're making an offer on that role,' " Dorr-Tilley says. "Or if they're not familiar with Blake's work, we send over his reel and do everything we can to acquaint them with Blake in the context of whatever role they're trying to find at that time."
This approach has paid off in the form of career progress: Dorr-Tilley and Sparks point to Robbins' emergence as a comedic commodity as a victory for the whole team. In addition to showing off a light and funny side in some of his commercial bookings, Robbins nabbed a high-profile recurring part on the NBC hit "The Office" as an annoying brother to Jim Halpert (John Krasinski). "So much of his work had been in drama," says Dorr-Tilley. " 'The Office' is great because they're not looking for the three-camera background; they're open to someone who's just funny. It opened up an avenue for him going after comedy."
Meanwhile, Edwards is working closely with Robbins on expanding his career to yet another new avenue: writing. "I initially read one of his scripts, and I thought that he had a great voice," Edwards says. "He's really great with dialogue. I had an idea and I thought he would be perfect for it. I pitched it to him and he started writing it, and God willing, [we hope to] get it produced and all that."
FAMILY PLANNING
Though representation will always be a key part of Robbins' team, he also counts on a solid support system beyond that—people who enrich his acting life in other ways. He says this is something he's always looked for, something that he's tried to maintain since moving to L.A.
"I feel like we chase representation when we could be chasing getting better as an actor and meeting circles of friends," Robbins says. "When I was at the American Academy of Dramatic Arts, they had an agent come in and talk to us, and he said, 'The best advice I can give you is don't try to get my attention. Take care of the people to the left and to the right of you. Twenty years from now, they're going to be the people that hire you.' And honestly, it's been true. We tend to climb over the people next to us and attempt to get to someone we think is important, but it doesn't really work that way."
In an effort to hook into the local community, Robbins has tried to be part of the L.A. theater scene and recently starred in the play "It's Just Sex," produced and directed by Rick Shaw. Robbins considers theater colleagues like Shaw vital members of his team. "Rick creates an atmosphere that feels safe for the creative process," he says, "one that is open to exploration and fun, and that's a huge part of putting together a performance."
Shaw notes that his background as a writer and performer makes him especially open to collaboration. "I encourage the actors' input in the collaborative process," he says. "I have to assume they're not just mannequins or line readers. I have to assume they're creative, intelligent people who are bringing their particular take to something. I am very open to exploring their feelings that way. I appreciate what the actors bring."
And when it comes down to it, the most crucial part of Robbins' team has nothing to do with the acting world at all. His family—wife Karen and kids Molly, Emma, and Cooper—has been by his side throughout his career. They're the ones, he says, who make it all possible.
"I didn't make a nickel in this business until Karen and I were four or five years married and Molly was on her way," Robbins says. "And I believe that it happened that way because I needed to become who I was going to become in relation to those relationships. I had to be a dad first, I had to be a husband first, before I was going to figure out who I was going to be as an actor. And every single decision I make impacts their lives."
That includes the big decision to move to L.A. "We couldn't afford to keep a home in both," he adds, "and it just made sense to move my career here, and my wife said, 'Yeah, let's do it,' and a lot of people would not have said yes, especially at that time."
Robbins' wife sometimes has a tough time with the "roller coaster ride of jobs," she says, but ultimately she does everything she can to be supportive: "Sometimes it feels like if he's down, I'm up; if I'm down, he's up—you know, we just kind of back each other up that way."
Molly, age 9, and Emma, age 7, meanwhile, note that sometimes they even get to "help" their dad with his work. "He'll practice in front of us, and he shows us his imitations," says Molly. "I comment about if I liked it or if it was good or funny or something."
And because Robbins counts his wife and children as the most important members of his team, he's vigilant about protecting his time with them. This is another key way his representation works with him: Each rep knows that family comes first and is supportive of that.
"I got a same-day callback for a commercial," Robbins recalls, "and you don't want to walk away from those, but I was on a hike with my kids, an hour north of here, and when Pam called, I said, 'I could probably drop everything and barely get there, but I'm just not. On to the next one.' Nine times out of 10, I'll be at the audition, but that one time out of 10, I'll say, 'Can't do it this time.' And I really appreciate that my reps get that."

TRUST EXERCISE
And that, ultimately, is the main quality to look for when building your team as an actor: people who get you, people who get what you want to do in the business, and people who will support your decisions.
"You don't want to get married and doubt for the rest of your life whether or not they're being faithful and doing what they promised they were going to do," says Dorr-Tilley. "Similarly, when you hire an agent, you need to trust that they have gone to work for you. The best relationships we have are those with actors who don't doubt that we're here working and pitching and doing everything we can to further their career."
Adds Edwards, "You have to be able to trust the people that you work with and trust that they're actually working hard when you're out there driving around the Valley to auditions—or when you're not auditioning at all."