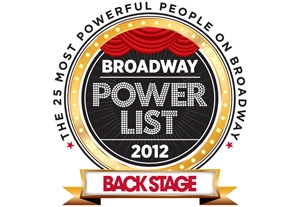 Perception is power. Other things are power, too, of course—money, prestige, the ability to produce weapons-grade uranium. But when the folks who make Back Stage decided to create a list of the 25 most powerful people on Broadway, we chose to focus on perception.
We asked more than two dozen heavy hitters in the New York theater world a simple question: Who are the most powerful people on Broadway? The reactions to the results ranged from "Oh, really?" to "Oh, duh." Some respondents focused on actors and artists. Others focused on the business-suit class. One person included "Whoever is responsible for the house seats at 'The Book of Mormon.' " Another listed his own name 25 times. (We discarded his votes. He made the cut anyway.)
What follows isn't Back Stage's opinion; it's the result of a scientific—or pseudoscientific, anyway—temperature taking of the Broadway community. The list is overwhelmingly white and overwhelmingly male. That's an unfortunate (but no doubt accurate) reflection of an industry that has historically been dominated by old, moneyed white guys. Regardless, these are the people who rule Broadway, as chosen by their subjects.
---

1. Philip J. Smith, Chairman and Co-CEO, Shubert Organization and Foundation
When Philip J. Smith was promoted from president to chairman of the Shubert Organization and Foundation in 2008, the recession was in full force and a staggering nine Broadway shows closed within a few months. Now the theater chain—and Broadway in general—are in healthy shape, and Smith sits atop the most powerful theater empire in America, crowned last year with a Tony Award for lifetime achievement in the theater. The Shuberts own and operate the lion's share of Broadway real estate, with 17 Main Stem theaters and one Off-Broadway, as well as the Shubert in Boston, the Forrest in Philadelphia, and the National Theatre in Washington, D.C. Smith began with the organization more than 50 years ago as a box office treasurer, and during his career he led the innovation to computerize and the development of the Telecharge ticketing system.
Since Smith began his tenure as chairman, the organization has continued its tradition of serving as a producing partner for many productions, including "God of Carnage" and revivals of "Exit the King" and "That Championship Season," following in the footsteps of preceding chairman Gerald Schoenfeld and Bernard B. Jacobs, who was president before Smith.
2. Jordan Roth, President, Jujamcyn Theaters
At 36, Jordan Roth runs and holds a 50 percent stake in Jujamcyn Theaters, which owns five Broadway houses, including the Eugene O'Neill, home of smash hit "The Book of Mormon." (National Endowment for the Arts Chairman Rocco Landesman is the other majority owner at Jujamcyn.) Roth rose to prominence with Off-Off Broadway disco phenomenon "The Donkey Show" and brings a youthful perspective to the gray-haired world of theater producers.
3. Robert E. Wankel, President and Co-CEO, Shubert Organization and Foundation
At the same time that Philip J. Smith ascended to the chairmanship of the Shubert Organization and Foundation, Robert E. Wankel was promoted to president after serving as executive vice president and chief financial officer. Like Smith, he was mentored by Bernard B. Jacobs and Gerald Schoenfeld and has been with the organization for more than three decades.
4. Thomas Schumacher, President, Disney Theatrical Group
Count 'em: Thomas Schumacher has three Broadway shows this season. "Mary Poppins" and "The Lion King" consistently hit the box office top 10, and if the response at Paper Mill Playhouse is any indication, cult favorite "Newsies" will likely join the highest-grossing shows, too. Don't mess with Disney.
5. Scott Rudin, Producer
Scott Rudin's reach extends beyond the Great White Way. This year he joined the ranks of Mel Brooks, Whoopi Goldberg, and Audrey Hepburn by becoming one of the few people to win Emmy, Grammy, Oscar, and Tony awards. Nonetheless, his roots are in the theater, where his influence can be seen and felt every season.
Beginning at 15 as an assistant to theater producer Kermit Bloomgarden, Rudin has become one of the most significant producers on Broadway over the last two decades. In 1994, he won his first Tony Award for producing Stephen Sondheim and James Lapine's "Passion," and he's been on a roll ever since, winning seven additional Tonys. Rudin is currently the lead producer of the Tony- and Grammy-winning musical "The Book of Mormon," which recouped its investment after eight months. This season he is producing an anticipated revival of "Death of a Salesman."
6. Jeffrey Richards, Producer, Press Agent
With his finger on the cultural pulse, Jeffrey Richards has produced such Tony winners as the explosive family drama "August: Osage County"; "Spring Awakening," the cutting-edge musical about adolescence; and the revival of "Glengarry Glen Ross," David Mamet's look at the real estate game. His current Main Stem productions include "The Gershwins' Porgy and Bess" and the upcoming "Gore Vidal's The Best Man."
7. Nick Scandalios, Executive Vice President, Nederlander Organization
This year Nick Scandalios celebrates 25 years at the Nederlander Organization, owner of nine New York theaters. He was also appointed chairman of the board of the Broadway League of Governors for 2012 and serves on the board of Broadway Cares/Equity Fights AIDS.
8. Todd Haimes, Artistic Director, Roundabout Theatre Company
At the helm since 1990, Todd Haimes has turned the once-faltering Roundabout into one of the most successful not-for-profit theaters in the country and secured three permanent homes along the way, including a $25 million renovation of the old Selwyn on 42nd Street (now the American Airlines Theatre) and the legendary Studio 54. Boasting myriad Tony wins, the Roundabout is recognized as a premier institution for its revivals of significant works.
9. David Stone, Producer
A lead producer behind "Wicked," the longest-running Broadway hit in decades, David Stone is also willing to take a chance with unusual material. Case in point: "Next to Normal," a searing musical about a bipolar mother that survived mixed reviews Off-Broadway and went on to Broadway and the Pulitzer Prize.
10. Hugh Jackman, Actor
The A-list actor cemented his status as Broadway's most bankable star after his solo concert show "Hugh Jackman: Back on Broadway" broke box office records this season. Hugh Jackman's third stint on the Great White Way was the toughest ticket of the season, reminding us that we'll watch the multitalented movie star do pretty much anything.
In his Broadway debut, Jackman won the 2004 Tony Award for his portrayal of Australian entertainer Peter Allen in the hit musical "The Boy From Oz." He hosted the Tonys for three consecutive years (winning an Emmy in 2005) and returned to the Broadway stage in 2009 to co-star with Daniel Craig in "A Steady Rain."
He's also proved his importance as a fundraiser. After raising more than $1.5 million for Broadway Cares/Equity Fights AIDS in 2009, Jackman brought nearly $1.8 million to the charity during the limited run of "Back on Broadway."
11. Ben Brantley, Critic, The New York Times
With everyone blogging, tweeting, and message boarding today, the power of theater critics is not what it was, and The New York Times is no exception. (Back in 1984, Frank Rich's unflagging support of "Sunday in the Park With George" prompted Alan Jay Lerner's acid comment, when told The Times had won nary a Pulitzer that year, "Oh yes it did. For drama.") But if a Ben Brantley rave can't guarantee hit status, a pan of a show Off-Broadway, in regional theater, or in London can stop a Main Stem transfer cold.
12. André Bishop, Artistic Director, Lincoln Center Theater
During his 20-year tenure, André Bishop has brought to the public such wide-ranging works as "War Horse," Tom Stoppard's "The Coast of Utopia," and "Other Desert Cities," along with crowd-pleasing musical revivals such as "South Pacific." He is equally committed to fostering new musicals, such as Jason Robert Brown and Alfred Uhry's "Parade" and Michael John LaChiusa's "Marie Christine."
13. James M. Nederlander, Chairman, Nederlander Organization
Known as "Jimmy," James M. Nederlander has produced and co-produced more than 100 shows on Broadway and has won 10 Tony Awards. Even the National High School Musical Theater Awards are nicknamed the Jimmy Awards after him. With nine venues in New York and 15 around the world, the Nederlander Organization is the second-largest owner of Broadway theaters.
14. Stephen Sondheim, Composer-Lyricist
No, he's not God (a question New York magazine famously asked in 1994), but Stephen Sondheim is almost certainly the finest American writer of musical theater—ever. At 82 (next week), he's slowed down, but his shows are constantly revived to critical acclaim. His power? There's not a writer of musicals alive who hasn't been influenced by Sondheim's oeuvre.
15. Michael Riedel, Columnist, New York Post
He almost squashed "Spider-Man," made rain clouds for "On a Clear Day," and nearly snapped off "The Addams Family." Like no other theater journalist writing today, Michael Riedel rules Broadway with an iron fist. His pithy columns in the New York Post offer insider gossip and expose backstage secrets the bigwigs would rather keep hidden.
16. Kevin McCollum, Producer
Kevin McCollum launched his career with the groundbreaking production of the Tony- and Pulitzer Prize–winning "Rent." His other equally risk-taking productions, including "In the Heights," "Avenue Q," "La Bohème," and "The Drowsy Chaperone," have garnered broad-based and critical admiration. An entrepreneur of Catholic tastes, he has produced "Ragtime," "Private Lives," and "Irving Berlin's White Christmas."
17. James L. Nederlander, President, Nederlander Organization
Son of No. 13, James L. Nederlander follows in his father's footsteps as a Broadway theater owner and producer. (He even produced controversial moneymaker "Spider-Man: Turn Off the Dark.") In addition to housing long-standing hit "Wicked," the Nederlander Organization will welcome five new shows between now and the close of the Broadway season.
18. Mike Nichols, Director, Producer
An iconic film director—he has directed a virtual who's who of Hollywood stars in movies that are among the most noteworthy of the 20th century—Mike Nichols has played an equally significant role on Broadway. Firmly rooted in the world of improvisation, Nichols and his comedy partner Elaine May launched their Broadway careers in 1960 with their cutting-edge collection of satirical sketches, "An Evening With Nichols and May." When Nichols turned his attention to directing, he was just as adept at staging Chekhov, Neil Simon, Ariel Dorfman, David Rabe, D.L. Coburn, Jean Kerr, Tom Stoppard—and now Arthur Miller, with a highly anticipated Broadway revival of "Death of a Salesman" starring Philip Seymour Hoffman.
19. Cameron Mackintosh, Producer
Twenty-two years ago, The New York Times called him "the most successful, influential, and powerful theatrical producer in the world." That was before his productions of "Cats," "Les Mis?érables," and "The Phantom of the Opera" became three of the longest-running musicals in Broadway history.
20. Daryl Roth, Producer
The only woman on the list, Daryl Roth has a nose for future Pulitzer Prize winners, having presented the original "Wit," "August: Osage County," "Proof," "Anna in the Tropics," "How I Learned to Drive," and "Three Tall Women" in successful runs. On the boards: "Leap of Faith." Next season: "Annie." She's also Jordan Roth's mother and is the owner of the self-named Off-Broadway theater in Union Square.
21. Barry Weissler, Producer
With his wife and partner, Fran, Barry Weissler has built one of the most reliable producing teams in the business. They capped a string of long-running hit revivals with "Chicago," still at the Ambassador Theatre as Broadway's longest-running revival. Since then, they've presented new productions of "Annie Get Your Gun" and "La Cage aux Folles" and the controversial "The Scottsboro Boys."
21. Nick Wyman, President, Actors' Equity Association
With more than 49,000 members in Actors' Equity Association, Nick Wyman runs one of the most important unions in the entertainment industry; his decisions affect professional stage actors and stage managers nationwide. As AEA begins its 2012–2013 centennial celebration, Wyman's leadership seems to have the union poised for its next hundred years. 
23. Harold Prince, Director, Producer
The possessor of the most Tony Awards ever—21—Harold Prince has had a legendary career as a director and producer. Still busy at 84, he has a new show, "Prince of Broadway," a compendium of highlights from his many musicals, that's a likely hit next season. If you've got Prince, you've got a show. He gets it on. It's that simple.
24. Bob Boyett, Producer
Strongly identified with prestigious British productions and many transfers, Bob Boyett has produced "The Pillowman," "The History Boys," "War Horse," Tom Stoppard's "The Coast of Utopia," "Boeing-Boeing," "The Seafarer," and the upcoming "One Man, Two Guvnors." Also in tune with contemporary American sensibilities, he has mounted "Next Fall," "Passing Strange," and "Topdog/Underdog," among others.
25. Bernard Telsey, Casting Director
If you've seen someone on a Broadway stage, Bernard Telsey probably saw him or her in the audition room first. He's worked in theater for more than three decades, but ever since casting the original Off-Broadway production of the late Jonathan Larson's "Rent," Telsey has been one of the most in-demand casting directors in the business. Current Broadway shows cast by Telsey + Company include "Sister Act," "Memphis," "Priscilla Queen of the Desert," "Spider-Man: Turn Off the Dark," "Rock of Ages," and the long-running "Wicked."
Telsey is also the vice-president of the Casting Society of America in New York and a co-founding artistic director of the Off-Broadway MCC Theatre.
"An artist is a person who looks at the world differently than other people, and Bernie does that through casting," Tony Award–winning director Bartlett Sher told Back Stage in 2009. "He's able to see what other people don't see."