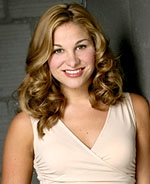 Legs is a tall blonde with, quite possibly, the finest pair of gams in Manhattan. If I had those legs, I would wear miniskirts to church; instead, Legs wears miniskirts to the Financial District.
Unlike most of my showfolk friends from college, Legs didn't hit the audition circuit and pursue her dreams when she first arrived on the scene in 2004. Legs worked at banks as a temp, and she was really good at it. Before long, she was permanent, and she just kept getting promoted...
Legs had full insurance coverage that didn't disappear once her Equity weeks expired, whereas I had a gynecologist way down in Chinatown (it was that, or the Bronx) who I could only afford to see once a year. Legs flew to Amsterdam for glamorous weekends; other showfolk friends thought a gig in St. Louis was an exotic opportunity.
Then, on Monday morning, in a power suit and stilettos. Legs walked into Soldman Gachs for the last time. She told her manager — the one who'd recently given her a bonus the size of Broadway — that she'd been cast in a show and she was done crunching numbers into the wee small hours of the morning.
Less than 24 hours later, she called me in utter panic.
"Oh my God, oh my God. What if I get sick?" She gasped into her cellphone as she walked to the subway. (Cabs were clearly out of the question now.) "What if I want to try the trendy new restaurant, or switch neighborhoods? What if I want to go to Europe for a long weekend?"
There were no answers to these questions. What did I know about giving up a luxurious lifestyle?
Instead, I said: "Welcome to the job that keeps on giving" And I thought, but did not say, Until the show closes and you have to audition to get another one. I took Legs to congratulatory cocktails at the only nearby bar where we knew a waiter. (Since her entire show contract pays two times less than Legs used to make in a day, I thought I should teach her how to go out on a budget — aka mooch off people in the service industry.)
Supposedly, when you jump off a cliff, no one hears about it until you either land safely or crash into the ocean, but Leg's cliff jump was heard 'round the world, and my ears especially were still ringing.
Clarice Mazanec (aka Legs) is currently performing in Hot and Sweet as part of the New York Musical Theatre Festival.
Before, I had envied Leg's money and the status, but always consoled myself by remembering she had to wake up at 4:30 a.m. Now, out of the blue, without much of a struggle, Legs was getting her Equity card for a two-week run of a show with huge potential to go to Broadway. Why was everything so easy for her?
In my mind, as thrilled as I was for my friend, a larger-than-I'd-like-to-admit part of me was jealous. Jealous that she never had to go on 12 auditions a week with no callbacks, or travel the country in a van, staying at Red Roof Inns. Jealous that she saved up tons of money in two years, while I cocktailed and spent all the tips on a voice lesson. And while I was at it, I was jealous that she was so tall and her legs were so long.
In short: I was a BFJM — Big Fat Jealous Monster (but my hair looked great).
"You'll start to learn that everyone has a path" is what older, wiser actors have said to me every time the BFJM has appeared, and I'd be a BF Liar if I said hearing about Leg's new show was the first time the BFJM has made an entrance. However, that expression has never done the trick. It's so touchy-feely, so "Let go and let God." The Type A in me can't handle the lack of control.
So, while I attempted to tell my BFJM that everyone has a path and to stop interrupting celebratory cocktails, she responded with wonderfully helpful comments, such as: But haven't YOU earned a big break? Isn't it YOUR turn yet already? Because the path you're on has been pretty lackluster lately, if you think about it.
I set down the vodka and excused myself to the restroom, unable to feign excitement, deal with the BFJM, and attempt to think about my path all at the same time. As I stood in front of the restroom mirror, willing the ugliness of envy to take a break while conjuring images of Mother Theresa, I decided to try thinking about someone other than myself. (It's difficult, but it can be done.)
I realized that just because it was easy right now didn't mean that it had always been that way for Legs.
Despite top-shelf, open-bar client dinners and being surrounded by clean-cut men in suits, it had been hard for her to see the rest of us get agents, to talk endlessly about auditions that she didn't go to. Legs was born to sing and perform, and for two whole years she didn't even get to try to — meanwhile her best friends were in the throes of living the dream and bitching about how crazyhardwonderful it was. The truth was, Legs had all the material possessions and job security that should have made her happy, but she wasn't. When you're an artist, all those things do is make you comfortable.
So, with newfound resolve to not be a BFJM, I returned to the table and Legs resumed telling me how scared she was that it would all fall apart, but what came out of her mouth didn't match up: she said, "Oh my God. What have I done?" but her body was thrumming with movement, a smile never left her face.
Looking at Legs, tossing her blonde curls, happily uncomfortable for the first time in a long time, humming the music to the show, excitedly telling me how terrible a mistake she was making while grinning ear to ear, I thought to myself: It was HER turn.
While the saying is trite, it's true: Everyone does have their own path. Or, as I like to say: Let go and let the theatre gods.
Legs was meant to jump off a cliff after two years of pretending to be a suit. And I was meant to be there on opening night, a Big Fat Proud Momma watching her Blonde Fabulously Talented Friend have a Friggin' Fantastic New York City debut.