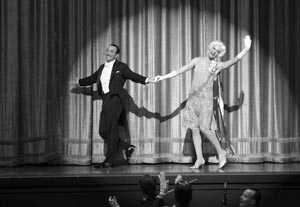 Audiences have been falling in love with "The Artist," a sweet valentine to the golden age of Hollywood about a silent-movie star who finds his career threatened by the advent of talking pictures. Ironically, this love letter to American cinema was brought to the screen by French filmmaker Michel Hazanavicius, who decided that to pay proper homage to the genre, he would shoot "The Artist" in black-and-white and without spoken dialogue. To pull off this feat, he assembled a fantastic cast of faces familiar and new—to American audiences, at least.
In the lead role of George Valentin, the fading star, Hazanavicius cast Jean Dujardin, whom he had previously worked with in the "OSS 117" spy comedies. As Peppy Miller, the young actor who finds her career on the rise, Hazanavicius called upon Bérénice Bejo, also a veteran of an "OSS 117" film and his wife in real life. Rounding out the cast are John Goodman as a studio head, Missi Pyle as a jealous co-star, Penelope Ann Miller as Valentin's disapproving wife, James Cromwell as his loyal servant, and a scene-stealing Jack Russell terrier named Uggie as Valentin's beloved dog.
Back Stage: How did you come to be cast in "The Artist"?James Cromwell:
My agent told me there was an offer for a silent, black-and-white film, by a French director and two actors I'd never heard of. Sounded intriguing. They sent me a bound book, more short story than script, including photographs, which were evocative of the period. I was even more intrigued. I had a very long meeting with the director, asked a lot of questions, liked him and his answers, and said, "Let's do it."
Bérénice Bejo:
I wasn't cast for "The Artist," actually. Michel, the director, wrote the character for me and he wrote it for Jean. He had me and Jean in mind, and he started writing while thinking about me, so I was very lucky. I didn't have to do any audition for this movie. At the very beginning, he was all about the guy, George Valentin, and he said to me, "There's going to be a young actress, a young extra in the movie, but she's not going to be as big as George Valentin. But I really want you to do it." I had already done a movie with him, and he's my husband, so I was not going to say no. He started writing, and the character of Peppy became more and more involved in the story.
Jean Dujardin:
My collaborations with Michel began in a bar. With two beers. "Hello, my name is Jean." "My name is Michel." "Okay." We worked together for "OSS 117." I think, when shooting "OSS 117" in Brazil, he said to me, "I'd like to make a silent movie." And I said, "I'd like to go to the moon." It's a good idea, but it's impossible. It's impossible to finance this film in France and in the world. But he did it.
Back Stage: Did you do anything to adjust your acting style for the genre of a silent film?Dujardin:
I watched a lot of movies. F.W. Murnau's movies, "Sunrise," or King Vidor movies, "The Crowd," "City Girl." I watched a lot of Douglas Fairbanks movies, because like George Valentin, he always played the same role. There was always a mustache. And Vittorio Gassman for his Italian physicality. Gene Kelly for his smile, his movement, energy. And "Lassie," with Uggie the dog. I had fun pretending to be a movie star in the 1920s.
Cromwell:
As far as I was concerned, I wasn't in a silent film. I just didn't have many lines, and the ones I did have weren't recorded. I had to tell my story with expressions and gestures, and trust the director to tell me if it was over-the-top, because there wasn't any replay. But that's not new to me: I didn't have many lines in my first film, "Murder by Death," where I also played a chauffeur, and only 16 or so in "Babe." They both turned out pretty good.
Bejo:
I'm sorry, every time I have this question, I feel people are going to be disappointed. But no, because we had lines in the script and we had dialogue. I spoke on set. The difference is for you as an audience: You don't hear me, but you see what I say on cards. But for me, actually, I acted the same way. For me, the difference was I had to find the character. The character was in the 1930s, and it's a young woman, and she's American, so that was the beginning of my work—how was it to be a woman in the '30s and how was it to be a movie star in the '30s? That was the beginning of my research. And Michel, since the very beginning, he said, "I don't want any pantomime." He took us to see [Frank] Borzage and Murnau movies from the '20s, and I realized it was very modern. There was no pantomime. They were just acting, and it was not overacting; it was very, very modern. When I saw that, I thought, "Okay, I'll just focus on the character, who she is, and I'll just go from there."
Penelope Ann Miller:
I did do a film called "Chaplin" with Robert Downey Jr.; Richard Attenborough directed it. I played Edna Purviance, a silent-film actor at the time who did many of the Chaplin films—and in fact she dated him. So I did have some experience doing a silent film, because we had to re-enact a couple scenes from some of the films they did together. So I had watched a lot of the Chaplin films. And I'm just an old-movie buff anyway. I love old black-and-white and silent film. So having that experience and having watched so many, that certainly helped. But certainly, getting into the wardrobe and the hair and makeup and the sets was incredible. All of that sort of helped me get into the spirit and the mood of the character. And the director did an amazing thing where he played music in the background during our takes, so he created a mood, which was really great. You can't do that, obviously, in talkies.
Back Stage: Are you at all surprised by how much the film has been embraced by audiences, or did you know you were onto something special?Dujardin:
Yes and no, because it's a universal story, it's a love story.
Bejo:
When I was filming it, I knew we were doing something unique and special because, you know, I'm never going to be able to do that again. I mean, I don't think so. So I knew it was something unique. Me and all the actors and the crew members, everybody was very excited about the project. But you can never, never tell if a movie is going to find its audience. What I could say is, when I saw the movie for the first time, I loved it so much. I said, "If the people are coming in the theater to watch the movie, I'm sure they will enjoy it. But how are we going to make them come? Because they're going to be a little scared about the fact that it's black-and-white and silent." I knew we had to do a lot of promotion and really talk about the movie so that people would get curious about it. It was actually released a month ago in France, and it's working so well and it's a huge success. I'm surprised, and at the same time I think the movie deserves that, because it's such a feel-good movie and it just speaks to you about Hollywood, and everybody loves Hollywood. Like, this is why I wanted to be an actress. It's because of these kinds of stories—very simple: You dream, you lie down, and you look at the screen, and you're like, "This is a story."
Miller:
I'm incredibly surprised. I mean, I am and I'm not. I think when we were filming it, we knew we were coming into something really special when we came on the set. Michel, just his attention to detail and his perfectionism, was just so amazing. I've never quite seen anything quite like it. So I think we knew we were doing something special. But I kind of felt like it would be one of those art-house films. I didn't think it would reach a wide audience as much as it has. I think it's the timing; it's what's happening in our world right now. I think we're craving something like this; we're craving for an experience where we really get to participate as an audience, because we're so assaulted, I think, now with film and sound effects and special effects and 3-D. It's nice to sit back and be part of an experience that is so special and beautiful in its simplest, purest way, which is where it all began: The golden age of Hollywood. Why we all fell in love with the movies in the first place. It's so exciting to see it becoming this, just snowballing into this incredible event. People are experiencing this film and loving it and embracing it like they are. So I'm surprised by that, but I'm thrilled.
Cromwell:
It's no surprise, considering how brilliant the film is. I knew it was special the first day I visited the set and watched a scene on the monitor. In it, a group of writers and directors, sitting outside the producer's office, watch the actor, George Valentin, walk out on his career. It was uncanny. I'm sure I've seen a still from that period, somewhere, of that very grouping. One of them could have been my father. Of course, it's not the verisimilitude that entrances a contemporary audience. It's the artistry and the exuberance of the performances, and of the direction, the sheer joy of it all. But those little touches make it an authentic homage to a simpler, less cynical, more hopeful time in our industry, and in the country. It's that vision the audience embraces.