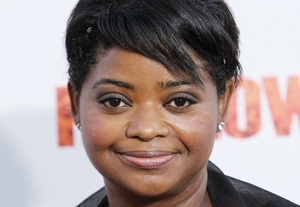 Octavia Spencer
Where you've seen her before:
Octavia Spencer's acting career began with a one-line role as the nurse of Sandra Bullock's character in the 1996 John Grisham thriller "A Time to Kill." Since then, Spencer has racked up dozens of film and TV credits, including "Never Been Kissed," "Being John Malkovich," "Bad Santa," "Coach Carter," "Seven Pounds," "NYPD Blue," "LAX," and "The Big Bang Theory." She has had multiepisode arcs on "Ugly Betty" and "Raising the Bar" and appeared in this year's film comedy "Dinner for Schmucks." She can also be found in the pages of Back Stage, as one of our Take 5 columnists.
Upcoming projects:
If Spencer is not yet a household name, she will be after the August 2011 release of "The Help," writer-director Tate Taylor's adaptation of Kathryn Stockett's best-selling novel set in Jackson, Miss., in the 1960s. Spencer plays Minny Jackson, a maid whose pride often disrupts the employer-employee relationship. "Peep World"—in which Spencer appears with Sarah Silverman, Rainn Wilson, and Michael C. Hall—premiered at this year's Toronto International Film Festival. And she recently completed the comedic feature "Flypaper," starring Patrick Dempsey and Ashley Judd.
Late bloomer:
Though she wanted to act from an early age, Spencer didn't pursue it at all until after college. Working as a casting assistant, the Alabama native says, she was encouraged to consider acting by those around her: "Directors would always say, 'You're so animated; you have a great personality.' It was what I wanted to hear, but I always said no, and finally I said yes one day." After "A Time to Kill," she took the plunge and moved to L.A., at the same time as pal (and "The Help" director) Taylor. "What a crazy decision at that time, but it worked out," she says.
Bit by bi
t: Spencer says her career has been mostly a continual evolution. She credits her first agent, Michael Green, with pushing her forward in her acting infancy. "I haven't done those bit parts in years, but you never know how it's going to be cut," she says. "I did a bit part in 'Seven Pounds' because I wanted to work with Will Smith and Gabriele Muccino," the film's director. "What I just did—well, what was left of what I did—in 'Dinner for Schmucks,' I somehow got these honorable mentions in a lot of the reviews, and I literally am onscreen—quality time—probably about 30 to 40 seconds. So you just never know when you start a part what it's going to evolve into or how it will resonate with audiences." She says she got a lot of exposure from her "Ugly Betty" arc and hopes "The Help" will be a breakthrough for her: "I'm definitely enjoying preparing a role rather than a part. It is a lot to think about, though."

Ensemble mama:
"I want to do more ensemble movies like I'm doing now," Spencer says, admitting, "I don't necessarily want to have to carry anything, but I want to work with the best of the best, and I want to continue to work with the type of directors that I'm getting to work with." And she wants to work more behind the scenes as well. "I'm trying to write now and get things that I want to produce, now that I'm meeting all these great producers and people with really deep pockets," she notes with a laugh. "I love directing; I think it's something that all actors should do, because then you understand the role of the D.P. and the director so much more. So I've been doing a couple of short films, and I'll continue doing that and hopefully one day graduate to a major motion picture. But I'd rather see myself acting and producing."
—Janelle Tipton
Jessica Chastain
Where you've seen her before:
The stunning redhead Jessica Chastain has logged time on episodic television, but unless you're an active theatergoer, you've likely missed her outstanding work in such productions as "Othello" at the Public Theater in New York, playing Desdemona to Philip Seymour Hoffman's Iago; "The Cherry Orchard," with Michelle Williams, at the Williamstown Theatre Festival; and Oscar Wilde's "Salome," in the title role opposite Al Pacino, in Los Angeles.

Upcoming projects:
With a wide array of upcoming film roles, Chastain is about to become far more recognizable. She'll first be seen as the younger version of Helen Mirren's character in December's "The Debt," with Sam Worthington. She also landed the coveted female lead in Terrence Malick's upcoming "The Tree of Life" and reteams with Worthington for the thriller "The Fields." There's also the Pacino-directed quasi-documentary "Wilde Salome" and the title role in "Jolene," based on an E.L. Doctorow short story. Chastain recently finished shooting the film adaptation of the bestseller "The Help," in which she plays Celia Foote, a poor Southern girl who marries into wealth.
Friends in high places:
Chastain attended the Juilliard School, where at the end of her second year she received a scholarship provided by Robin Williams—though she has never been able to thank him personally. "I saw him at a restaurant once but didn't want to bother him," she says. "And when I finally worked up the nerve to say hi, he was gone." Just before her final year at Juilliard, Chastain was approached about a holding contract with über-producer John Wells, but she chose to finish school. "I was the first person to go to college in my family, and it was such a big deal, because Juilliard to me was the best," she says. "It was a dream come true to get in, and I just felt it was right to finish what I'd started." Upon graduation, she ended up taking the holding deal and earned her SAG card with an appearance on Wells' hit "ER."
Still, Chastain admits that Hollywood seemed unsure what to do with "a 5-foot-4 ginger" like her. "I played a lot of victims my first year out of school," she says with a laugh. "I played a rape victim four times. I was always, like, the girl something horrible happens to. I wanted to say, 'You know, there are other things I can do besides crying.' " She cites landing the role in the stage production of "Salome" as a turning point in her career: "My first meeting with the director, Estelle Parsons, she was really gruff. The first thing she said was, 'Why should I hire you?' Then she had me dance to see how I move, even though there was no music. But I realized she wanted to see if I could be brave and gutsy, so I took her dare and went for it." Chastain's co-stars and directors have been her greatest allies. Pacino placed a call to Malick to endorse her for the role in "The Tree of Life," and then Malick called John Madden, director of "The Debt," with a glowing recommendation.
Getting "Help":
Chastain says Celia was the only role in "The Help" that she auditioned for—and the one she truly wanted: "I think sometimes people get in the trap of saying, 'Oh, I want the lead' or 'Oh, I want a hit.' But I read the script and immediately I wanted Celia because she is so different from anything I've done." Celia forges a bond with her maid Minny (played by fellow Actor to Watch Octavia Spencer); it was their relationship that genuinely touched Chastain. "I'm not kidding when I say I cried while reading the screenplay," she says. "And I said, 'This is a woman I want to know for a while.' "
Coming attractions:
With her profile set to soar in the next year, Chastain admits to concern about how her life will change. "Right now I'm working on my ninth film, and nothing's come out yet, and that's the gift that I've been given," she says. "Usually what happens is that you go into a room to audition for someone and they have an idea of who you are because they've seen you do something. So you come in with baggage already, and you have to try and erase their preconception of who you are. So in a way I've been able to avoid being typecast, because no one has seen my work, and I have tried to make all my roles really different. So I hope, when these films come out, people won't try to put me in a box. The reason I love to act is because I love to play different kinds of characters from different worlds and environments. That would be a slow death to me, to play the same character over and over again."
—Jenelle Riley