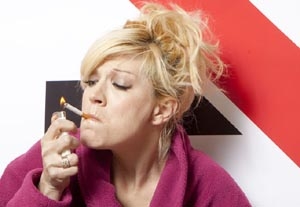 "The Last Smoker in America" intends to be a comedic social commentary on political freedoms and individual differences in American society. Unfortunately, the show's excessively silly tone, while portrayed entertainingly, reduces it to a farcically skewed portrait of dysfunctional families.
Bill Russell's book and lyrics follow four characters. Pam (Felicia Finley) is torn between her need to smoke and her fear of prison in a world where smoking has been outlawed. Her husband, Ernie (Marcus Neville), toils at his music, dreaming of rock stardom. Their hyperactive medicated son, Jimmy (Alex Wyse), feels neglected and obsesses over videogames. Meanwhile, Phyllis (Natalie Venetia Belcon), the nosy antismoking leader, pops in and out of the house all day. Each character is overly devoted to his or her own concerns. Though the muddled plot theoretically revolves around the less tolerant times, the characters lack depth, and the absurdity of the story steals the focus.
Finley is well cast as Pam due to her raspy but resilient vocals, which make her a believable smoker and form the cloud of desperation that follows her. However, Finley fails to connect, both with her character and with the rest of the family, resulting in a distant and uncompelling protagonist.
Peter Melnick's generally ordinary music can't rescue things. And when the composer occasionally steps out of the box, it's only to deliver more silliness. A good example is the rap number "Gangsta," in which Wyse capably depicts the mental illness that induces Jimmy's adolescent desire to experiment and be black. Though good for a laugh, the song neither contributes to establishing a musical style for the show nor advances the plot. The Act 2 opener, "If Our Lungs Could Only Talk," recalls a campfire jingle. The tune grants Belcon another opportunity to exercise the crazy in her character, but the repetitive lyric and singsong melody simply annoy.
The show wants to criticize overbearing federal government while having a bit of fun, but right now the fun is out of control, making "The Last Smoker in America" as bad as secondhand smoke.


Presented by Andy Sandberg as part of the New York Musical Theatre Festival at the Tank at 45th Street Theatre, 354 W. 45th, NYC. Oct. 13–18. Remaining performances: Fri., Oct. 16, 4:30 and 11 p.m.; Sat., Oct. 17, 8 p.m.; Sun., Oct. 18, 1 p.m. (212) 352-3101, (866) 811-4111, or www.nymf.org. Casting by Michael Cassara.