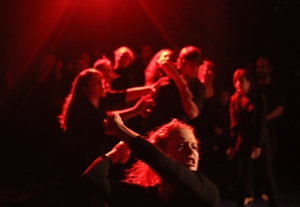 The Living Theatre
, the longest-running experimental theater company in the United States, will celebrate its 65th anniversary this fall -- but it almost didn't survive the spring. Faced with eviction in May, the venerable theater, founded in 1947, did a very 21st-century thing: It launched an urgent fundraising campaign through the donation site Lucky Ant to raise $24,000, the necessary cost of covering overdue rent and hiring a consultant. Had the fundraising been unsuccessful, more than theater space would have been lost: 86-year-old founder and artistic director
Judith Malina
, who lives in the building, would have been evicted.
Fundraising sites such as Lucky Ant, Kickstarter, and Indiegogo have become increasingly popular for independent artists and theater companies. Across social networks, the theater's website, and mainstream media, the Living Theatre displayed the link to its designated page on Lucky Ant alongside a plea to "save the living." The Doors' Facebook page, which has more than 11 million fans, helped by posting the message, "The Living Theater needs your help. Donate now to save TLT, just like Jim Morrison did in 1969."
"It was really exciting," said
Brad Burgess
, Living Theatre's executive producer and associate artistic director. "It put on display exactly how arts organizations fundraise right now."
New York City's
terraNOVA Collective
is another downtown arts organization using donation sites for its fundraising. "Kickstarter and Indiegogo are trends, and people are really responding to them," said terraNOVA's producing artistic director, Jennifer Conley Darling. Yet terraNOVA has found that the commission such sites take from each organization compromises the total funds gained. "We're doing it through our website now," Darling said, explaining that the benefits of such sites, such as rewards for donations, can be managed more directly by her own staff.
"Having perks associated with donations is a good thing. We just choose to manage it personally," she said.
Fundraising will continue to be an essential part of the Living Theatre's operations in the months ahead. Burgess says he hopes to combine fundraising initiatives through social media as well as the more traditional approach of "getting people in a room together." This fall, he and Malina plan to host a fundraising event in honor of the Living Theatre's 65th anniversary. 
According to Burgess, maintaining the theater's downtown home is the first of two goals. Next, he plans to work with a consultant to create a sustainable business plan.
"We're hoping to expand in terms of administrative staff, business staff, and organizational capacity. We want to institutionalize the Living Theatre so that it's run by professionals. Judith and I are much better on the artistic side of things," said Burgess. The theater currently has no official staff, relying on help from volunteers.
Now that the theater's home on Clinton Street is secure, it will continue the development of a new work scheduled to debut this fall. Burgess hopes the space will become a downtown destination, abundant with actors, administrative support, and other arts companies that wish to use the venue. "This is a starting point for our continuing fundraising efforts," he said. "What the Living Theatre can do is very large, and we've only scratched the surface."